What is it about bath time that makes it so much fun for kids? Sure, having prune fingers is entertaining, but there has to be more. Is it the echo of your voice in the bathroom? The relaxing nature of warm water? The chance to splash around and make a mess (that for parents is a lot easier to clean up than splashing around in mud puddles)? The wonderful opportunities for creative play, cause and effect, and imagination? Actually, does it really matter? This week we had a chance to review a number of bath toys that can keep bath time fun for everyone—even when it's time for the dreaded washing and shampooing part. We loved 'em and we're sure you will too.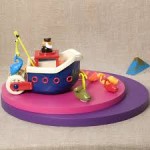 B. Fish & Splish Boat (B. Toys)
Take two handfuls of colorful, durable water toys, put them in a boat, and you've got hours of fun. The Fish & Splish Boat includes nesting cups, the captain, a life preserver, a fishing hook (no, not a real one, of course) and four easy-to-catch fish—all of which stow away neatly inside the boat. There's even a comb and nail brush (cleverly disguised as an innocent-looking octopus and a smiling whale) so mom and dad can sneak a little hygiene into the bathing experience. Ages eight months to three years. Retails for about $31.00 at Amazon. http://www.mybtoys.com/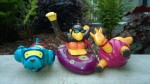 Wiggly Wind-Ups (B. Toys)
If there's one place where electronics don't belong, it's the bathtub. And the folks at B. Toys have graciously obliged, coming up with some delightfully old-school toys. All you do is wind 'em up, let them loose and the paddle their way around the tub, leaving nothing but waves and giggling children behind. There's a gorilla in a canoe, a giraffe with swim fins, and a masked blue super dog. Unfortunately, the Wiggly Wind-Ups are a little hard to find, but well worth the trouble.
Bubbalooka
Surfing in the Tub
Magnetic Ducks in the Tub (Alex Toys)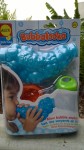 If you're looking for a way to keep your little one(s) in the tub a bit longer, Bubbalooka is your answer. With Bubbalooka, kids (and we're sure plenty of parents) can blow incredibly long, fluffy bubble snakes. The complete kit comes with a bubble horn, a bottle of bubble solution, and a suction cup holder so the bottle won't spill into the tub.  Can be used in the tub or anywhere else, for that matter. Recommended for kids two years old and up. Retails for $11.95 on the company's website (http://www.alextoys.com/), or you can pick it up wherever you buy your toys.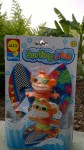 The Surfing in the Tub kit is another bath time extender—one that's designed to make washing a little less unattractive. Snap the monkey onto one of two foam surfboards and take him on his very own wave-riding adventure. Oh, and did we mention that the money also squirts? For ages two and up. But it for $11.95 on Alex Toys' website—a bit more on Amazon.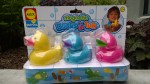 Magnetic Ducks in the Tub are exactly what you'd expect from the name: three colorful, soft, vinyl ducks—theoretically a mommy duck and her chicks, but it could just as well be a dad or family friend—that click together magnetically. Good, clean, old fashioned, fun.  Safe for ages two and up. Retails for $16.95.