Last week, we talked about some tents and sleeping bags so you don't need me to remind you about the stuff that we spoke about. What I will say is that it's important for you to do your research and find the best backpacking tent that you can find so that you can enjoy your trip as much as possible. But if you're really going to go camping, you'll need more than that to make a successful adventure. Whether it's a tonne of fun games or a device to give you better cell reception, you need to be ready. We all know that a kid's favourite phrase is 'I'm hungry' so I would highly recommend reading up on some quick camping meal ideas from somewhere like campingfunzone.com, so you're always prepared for this eventuality. It might even be an idea to take some recipe books along with you. Here are a few more of our favorite take-alongs.
Lights
Since camping typically involves an overnight, it's important to think about how you're going to get around in the dark (say, to and from the bathroom, from the campfire back to the tent, or even just getting undressed and finding your sleeping bag). While some kids may love feeling their way around by starlight, many will need the comfort of a lantern or flashlight.
HABA Terra Kids Lantern (HABA USA)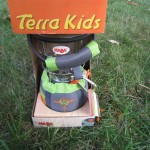 One of the problems with battery-operated lighting is that kids never remember to turn them off, which leaves you literally in the dark. The HABA Terra Kids lantern solves that by using an easy-to-turn crank to charge the bright, easy-to-see-by LED lights. So your little ones can keep their light shining all night long-or at least until they fall asleep. This well-built, sturdy lantern comes with a padded handle and a neoprene cover. It also sports a built-in compass (perfect for little explorers), a detachable karabiner, and
an alarm whistle so the kids can alert you if they aren't able to find their way home with the compass. $39.99. http://www.afterschool.com
Bibi Bee Kids' Flashlight (Melissa and Doug)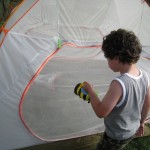 For the little ones, Melissa and Doug's Bibi Bee Kid's Flashlight will be an instant hit and may give them a little more confidence to explore. The bright bee stripes and happy face are great for scaring away nighttime monsters. This lantern takes AA batteries, which are well hidden by a childproof panel that keeps kids from removing them. However, you'll need to bring a small Phillips screwdriver, otherwise you won't be able to get to the batteries either. $12.99. http://www.melissaanddoug.com
ThermaCELLOutdoor Lantern (ThermaCell)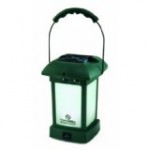 Lanterns are great for lighting, but they also tend to attract mosquitos and other bugs. This lantern manages to combine a good quality, fully functional LED light source with insect repellant. This lantern is non-toxic, silent, odor-free, and instead of DEET, keeps bugs away with allethrin (a version of a natural insecticide found in chrysanthemum flowers). The ThermaCELL weighs only 13 ounces, and 4 AA batteries provide up to 12 hours of power. $29.99. http://www.thermacell.com/
Let's Go Fishing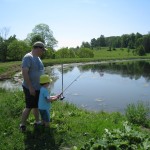 Camping trips are a great time introduce the kids to fishing-and to the time-honored practice of telling stories about "the one that got away." The Zebco 33 Spincast Combo ($29.99) is an excellent option for both newbies and more experienced anglers. It also comes pre-spooled, which is nice for everyone. We also liked using the Rapala Original Floating Lure ($8-$13) as twitch bait. Both are available. At Afterschool.com. They also carry everything from rods, reels, poles, and tackle for dad, to character poles for the kids (even pink ones for those little princesses who still want to play in the mud and water). http://www.afterschool.com
Quit Bugging Me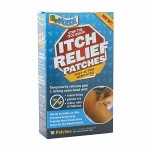 Whether or not you're near the water, don't forget the bug spray. Natrapel Bug Spray (available at drugstores everywhere) is not only effective, but is DEET-free and safer for everyone in the family. Unfortunately, even the best insect repellant doesn't get 100 percent of the bugs. And even if it could, there's always poison ivy and poison oak. The Itch Relief Patches from BeKool ($4.99 for a package of 18, http://www.bekoool.com/) not only relive the pain and itching, but also provide a physical barrier to prevent scratching.