Are you ready for the Easter Bunny to hop into your house? Fill your little ones' baskets (and tummies) with these fun, spring items.
Shakin Eggs (HABA USA)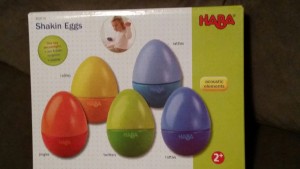 These eggs are perfect for baskets and never go bad. The kids will love them—not only for their bright colors, but also for the fun sounds they make. Each box contains a set of five colored beech wood eggs (and yes, the paint is safe and non-toxic, since we all know kiddies are going to try to put them into their mouths). Each egg makes a different sound (one jingles, another rattles, and so on), so your little bunny can make plenty of seasonal music. Recommended for ages 2 and up, but we think they're okay for younger kids as well, since they're too big to fit in the mouth and there are no small parts. About $20 at a retailer near you or at http://www.habausa.com
Cheekeez Bunny and Lamb (Aurora)
No basket is complete without a sweet, fluffy toy, and Aurora makes some high quality plush toys that kids of all ages will want to cuddle up with year round. Among our faves for this season, though, are the Cheekeez Bunny ($9) and the oh-so-soft Lamb ($15.50). Available at gift stores like Hallmark or at http://www.auroragift.com/
Limited Edition Easter Toys (Skylanders)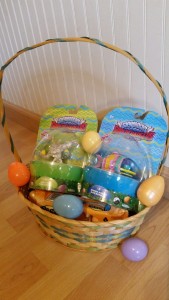 For your gamer, Skylanders has released two limited edition, exclusive Easter themed toys for the Skylanders SuperChargers game. Spring Ahead Dive Bomber ($14.99) is a new vehicle that the Skylanders have disguised as an Easter egg to protect their bounty! The Skylanders figures can also interact and ride inside the Bomber within the game, adding a new layer of fun. Also out for the holiday is Eggcited Thrillipede ($12.99) who, with an extra set of arms, is the reigning Dragon Egg Toss Champion. Maybe this year, he'll defend his title with Easter Eggs. Available at Game Stop, Toys R Us, and other stores that carry video games.
Gift Baskets (GourmetGiftBaskets.com)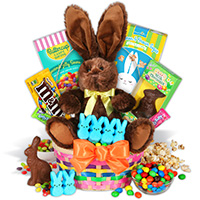 If you're not in the mood to create your own basket, you ran out of time, or your little chicks live far from you, not to worry! You can send your hugs and chocolate kisses by mail and if you order soon, they'll get there in time for Easter. GourmetGiftBaskets.com has a huge selection of pre-made baskets that will please any gift-ee. For example, there's the Gift Basket for Men, Premium Wine Spa Gift Basket, Sugar Free Gift Basket (for the diabetic in your life), Happy Easter Brownie Cake, and lots more. For families with more than one child, check out the Double-Bunny Easter Basket, which comes with two of everything: candies, chocolate bunnies, and, of course, stuffed toys. Prices vary. Visit www.GourmetGiftBaskets.com
Inspiring Ideas (Tastefully Simple)

If you want to make sure your special Easter celebration comes off perfectly, but you maybe aren't the whiz in the kitchen you wish you were, you'll find plenty of ideas, menus, recipes, and packages that will ensure that everything goes according to plan. You'll still need to pick up the ham (or whatever you're making) and the fresh items, but Tastefully Simple will guide you through every step of the planning, shopping, and cooking process. They've got plenty of inspiration, tutorials for making amazing-looking food that you're definitely going to want to share on Instagram—even if you're no Martha Stewart—and lots of time saving mixes for brownies, truffles, and more. You're going to love the way your food turns out. https://www.tastefullysimple.com