When the weather is see-sawing back and forth between too hot and too stormy, here are some fun toys that work equally well indoors or out.
Water Park with Slides (Playmobil)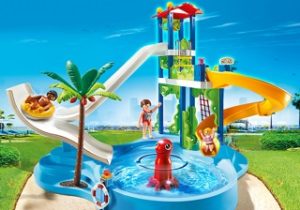 This colorful playset includes two slides that feed into an octopus wave pool. The brightly colored octopus creates ripples in the pool just like the wave pool at your favorite theme park. Male, female, and child figures are included, along with several accessories. Just fill with water, and let the fun begin. For ages 4 and up. $59.99 at your favorite retailer or www.playmobil.com.