It's the week before Christmas and all through the land, there are parents who are still trying to find that perfect toy for the special child(ren) in their life. Here are a few of our last-minute favorites, toys that your children will be thrilled to find under the tree this year.
Big Hugs Elmo (Playskool)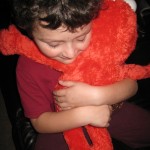 Once again, that fuzzy, red monster has managed to be THE hot toy of the season. He's large (about the size of a one-year old), loves getting—and giving—hugs, and will often ask for a bigger or tighter squeeze from your little cuddle bug. Elmo also asks to play ponies, jump like froggies, (and will comment along with appropriate noises), and dance. Elmo also moves his arms up and down, sings bedtime songs, and snores when you lay him on his back. About $50, and available at 
http://www.toysrus.com
 or in physical stores near you. But you'd better hurry.
Sesame Street Lullaby & Good Night Elmo (Hasbro)
Haven't had enough of Elmo yet? Decked out in his Dorothy the Goldfish pajamas, this Elmo is all set to comfort your little one as he or she drifts off into dreamland. Kids can snuggle up with Elmo and press his tummy to hear a lullaby or one of a few bedtime phrases. Strangely, there's no Off button, which means Elmo could start talking if your child accidentally rolls over him.  About $15. 
http://www.hasbro.com
.
Furby Boom (Hasbro)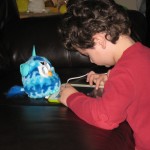 Furbies have been around for a while, but this latest incarnation has some special features. The new Furbies come in bright patterns and colors. Having an app seems to be a requirement for toys these days, and Furby's got one for Apple or Android (including some kids' tablets. The Furby Boom, like past Furbies, has a mind of its own, and the more you interact with and play with it, the more you shape its personality. Furby remembers his name and has more than twice as many responses as previous generations did. Furby can learn English or help you understand "Furbish." And the app lets you mix smoothies, give your little pal a virtual shower, and even hatch and raise digital Furby Furblings. About $64. Available at 
http://www.hasbro.com
 or your favorite toy store.
Tabeo e2 (Toys R Us)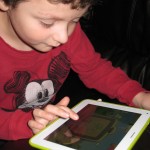 As we discussed last week, tablets are great way for kids to start interfacing with technology in a way that's both safe, educational, and won't trash mom and dad's expensive tablet. The Tabeo e2 has all the specs needed to run the newest apps, 8GB of flash memory, Jelly Bean 4.2, Dual core 1.0 Ghz CPU, Quad-core GPU, and 1GB of RAM. All this makes for a zippy tablet that's a breeze to use. The parental controls (which you have to set up before turning the e2 over to the kids) are pretty comprehensive and allow you to keep your kids from doing anything you don't feel is appropriate for them. Comes with a charger, USB cable, and a protective case to keep it safe when those accidental tumbles happen. About $150. You can pre-order yours at 
http://www.tabeo.com
.
A final note. If you're still looking for something for the dads on your list, be sure to check out the winners of the Mr. Dad Seal of Approval, which recognizes toys and games that dads and kids can play together. The complete list is at
http://mrdad.com/seal
.
Best wishes for a safe, play-filled Holiday from all of us on the Parents@Play team.