For many kids (and tweens, and teens, and-let's face it-adults, too), gaming is a part of life. Nothing would delight them more in getting the new releases and playing them on their gaming TVs (check out this resource from vizio.com) so they can feel that excitement. It can also be a great way to unwind by yourself or (better yet) to log some major parent-child bonding time. As you put the finishing touches on this year's Holiday lists, you may want to include a few of the following for your favorite gamers (or gamer wannabes).
Wii U Mario Kart 8 Deluxe Set Bundle (Nintendo)
Do you own a Wii U yet? If not, you won't find a better way to start than with the Wii U Mario Kart 8 Deluxe Set Bundle, which includes the Mario Kart 8 and Nintendo Land games, an MK8 steering wheel, and, of course, the deluxe 32GB Wii U console, complete with a Mario-themed red Wii remote (or Wii-mote).
The Wii U is Nintendo's sleek, new console, which has next-generation graphics that are comparable to the Playstation 3 and Xbox 360. Images and textures are sharp, the sound is clear, and the characters look like they're about ready to hop right off the screen to join you on the couch.
Speaking of screens, the Wii U GamePad controller, with its 6.2-inch touchscreen, is the star of the show. The GamePad has dual analog sticks, the usual buttons (A, B, X, Y, Home, Select, and more), as well as left- and right trigger buttons. Use it to control action on the TV screen or to access additional features such as in-game maps. Oh, and you can even use it as a TV remote control. If you're just getting started, this bundle is a very good deal at $299.99. You'll find it at your local retailer or http://happyholidays.nintendo.com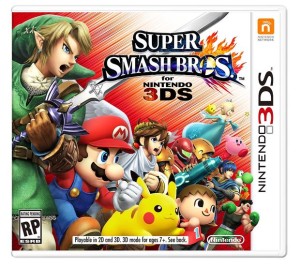 Super Smash Bros (Nintendo)
If you're not ready for the Wii U or you just prefer to play on the 3DS, Super Smash Bros. is the way to go. This fighting game has a host of Nintendo and non-Nintendo characters who face off in multi-person, last-man-standing battles. Each character has different weapons, different speeds, different heights and weights, and different ways of attacking. That should make it pretty easy to decide who your favorite is-and who your arch-enemy is too. What's especially nice about Smash Bros. is that there are just a few buttons, which makes it easy for players-even complete novices-to master their character fairly quickly. Super Smash Bros. for 3DS is available now for $39.99 from all major retailers and the 3DS e-store.
Pokémon Art Academy (Nintendo)
For a somewhat less enervating gaming experience, take a look at Pokémon Art Academy, a Pokémon-themed version of Nintendo's highly successful Art Academy. This one includes 40 lessons that will have anyone and everyone painting, sketching, and drawing the Pokémon characters you know and love. It starts with a stylus on the 3DS. But the Academy introduces kids (and their parents) to an incredible variety of media (including paint, pastel, pen, pencil, and a few others that don't start with P), and teaches them skills and techniques that they'll be able to use in real life and that go far beyond Pokémon. Pokémon Art Academy costs $30, and you can download it digitally or buy a hard copy at your favorite retailer or on the Art Academy website at http://artacademy.nintendo.com/pokemon/