No matter what kind of vacation you're looking for—whether it's a family trip, a romantic couples' retreat, a weekend getaway with friends, or anything else—you can find what you are looking for on the diverse island of St. Lucia.
Coconut Bay is located near the airport (in fact, just five minutes away), so you won't have a long trek to your room once you arrive. That's never a welcome surprise, is it? Once there, you'll be greeted by friendly staff with cool towels and cold drinks of your choice: water, rum punch, or champagne.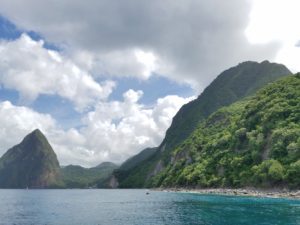 After you and your entourage check into your rooms and take a few minutes to refresh and cool off, your vacation truly begins. Recently renovated on 85 acres, the all-inclusive Coconut Bay offers plenty to see, do, (including eat) and explore. There are nine restaurants, seven bars, five pools, a fully functional and not-at-all lacking fitness center (let's face it, too many vacation spot "gyms" are pretty lame), the largest waterpark on the island, and more. Did we mention it'll all inclusive? Because that makes things so. Much. Easier. Oh, and the beach is just past the pools, so no long hike to and fro.
We visited for a long weekend, and that wasn't nearly enough time to see everything that we wanted to all that we wanted to on the resort, let alone the island. So, while it's a great spot for a quick getaway, it's even better if you want something a bit more immersive.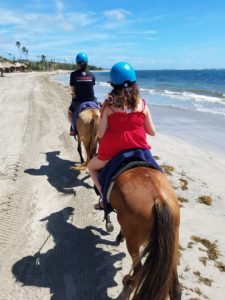 Bringing the kids? Totally cool. We usually do as well. The "Splash" wing is for families, and it's where you'll find the waterpark, the only resort petting zoo on the island, the Kidz Club, and even a paintball course. It's definitely the louder side of the resort, and there are plenty of family friendly activities to keep everyone busy.
Looking to keep yourself (and the family) active while traveling? Coconut Bay has a nice selection of high-quality fitness classes that are both fun and challenging, meaning that you can work up a sweat and enjoy yourself at the same time. In our experience, this isn't something you typically find. Resorts may have gyms and classes, but they're generally not anywhere near this intense.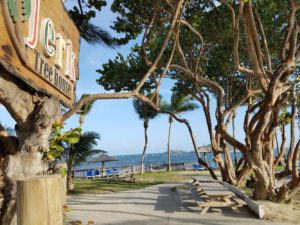 If you're planning an adults-only (romantic or just for friends), you may prefer to stay in the "Harmony" wing of the resort, which doesn't allow children. (Hey, there's nothing to be ashamed of: when you finally allow yourself a few moments to get away from it all—your routine, the kids, the noise—the last thing you want to hear is someone else's kids screaming, right?) With separate pools, a cabana area, and bar, the "Harmony" area has adults only peace and quiet in mind. The rooms are luxurious and have evening turn down service, and there are quite a few options when it comes to views. Pool, ocean, or garden. They're all beautiful (and what tropical view would you turn down right now, really?) We all know how hard it can be to find time to reconnect as a couple, and Coconut Bay makes sure you can have the quiet moments you're looking for, complete with hammocks, and lounge chairs everywhere you look.
Visit https://cbayresort.com to choose a package that works for your next vacation.