Washington DC doesn't appear on many lists of top adventure travel destinations, but if you know where to look, there are plenty of options, ranging from the sedate to the scary (besides visiting Congress and seeing our politicians in action). Here are some highlights from a recent trip.
Kings Dominion
Kings Dominion is about two hours south of DC, and the rides (quality and quantity) are the best we've experienced. Anaconda is loaded with coils, loops, and drops. Drop Tower sent us free-falling 27 stories straight down, Flight of Fear catapulted us into near-total darkness, and Volcano shot us-like lava-150 feet straight up and through a series of spins and corkscrews. Dominator took us through five inversions on what's billed as the longest floorless coaster in the world, and Intimidator 305 was absolutely amazing, with its 300-foot drop, blistering speeds, and whipping, high-speed turns. For between-ride downtime, we enjoyed Dinosaurs Alive!, a multi-acre forest filled with more than 30 life-sized, roaring, animatronic dinosaurs. https://www.kingsdominion.com
Terrapin Adventures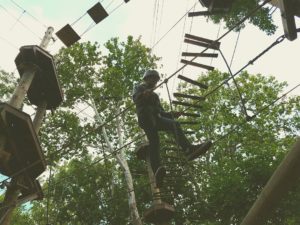 When it comes to outdoors challenges-things like rock wall climbing and zip lines-we're pretty jaded, so our expectations were pretty low. But Terrapin Adventures turned out to be one of the highlights of the trip. We did the Terrapin Challenge (about $75 per person), which includes five separate activities. It started with a 330-foot zip line, which, for experienced zippers won't be much of a challenge. But beginners will have a blast. Next, we did the 3-level high ropes course, with 19 elements to cross, including a vine walk, hanging logs, cable bridges, rope bridges, cargo nets, floating platforms, and more. The higher up you go, the more challenging the elements.
After that, we did a 40-foot freefall/swing and then hit the climbing tower, which features about 15 different ways to get to a platform about 30 feet up-and far fewer to get back down (including one that felt like being squeezed through a hose). It was exhausting, exhilarating, and nothing short of spectacular. If you're afraid of heights or claustrophobic, this will push you to your limits. But top-notch safety procedures and the supportive staff make it easy (easier) to push through those fears. www.terrapinadventures.com
Zip lining could be on your bucket list if you are an adventure enthusiast. Who doesn't love some adrenaline rush, right? You can definitely find more similar places around the country. And many of those come with a breath-taking view – Pigeon Forge zip line, for example. So, if you are planning for an adventure, you can check out these places as well.
Urban Adventure Quest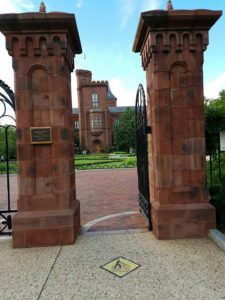 DC is home to some less-adrenaline filled adventures, and Urban Adventure Quest-a 3.3-mile long, smartphone-guided scavenger hunt-is one of the best. To move through the Quest, we had to do things like count the keyhole stones in the Enid A. Haupt Garden on the Smithsonian Castle grounds, make a wordsearch from the last names of five sculptors in the Hirshhorn Museum sculpture garden, figure out which hotel room Clara Barton (the Angel of the Battlefield) stayed in, and find Abraham Lincoln's values through the window of the theater where he was shot. The Quest took us 3 ½ hours, including several stops for snacks and water. We saw-and learned-a lot. But best of all, it's a great opportunity to work collaboratively with your teen or tween on an activity that he or she will enjoy. Cost is $49, per team (generally 2-5 players). http://www.urbanadventurequest.com
Bike and Roll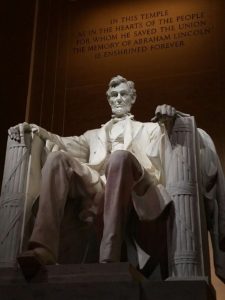 The last activity of our trip was an evening tour of many of DCs monuments. Most are plenty impressive during the day, but they really come to life after dark. Our guide, Tujon, was very knowledgeable and regaled us with fascinating stories. Of course, he took us to the major monuments: Washington, Jefferson, Lincoln, Martin Luther King, Jr., the Vietnam Memorial, and others. But we also discovered some we never knew existed, such as the Albert Einstein Memorial, with its specially designed private echo chamber (you'll have to visit it to find out what we mean). www.bikeandrolldc.com