Yes, the new school year is almost (or, in some places, already) under way. And yes, the kids are going to start coming home with backpacks full of homework. But that doesn't mean no more fun. Here are two great activities that will help you make the summer last a little longer, and three that will keep a smile on your face as the weather gets colder.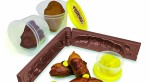 Poo Dough (Skyrocket Toys)
One of our favorite fads has been gross toys—things that poop, blow snot, pass gas, and more. If your children are into this (most are), they'll definitely enjoy Poo Dough, which is completely disgusting, but in a really fun way. You get realistic, pooh-shaped molds and the dough itself (which comes in a lovely shade of yellow and two equally lovely shades of brown). But wait, there's more. You also get special molds for "corn" and "peanuts." Yep, the kids (and plenty of fully grown adults) are all set for hours of giggly, eeeew-inducing entertainment. About $8 in stores like Toys R Us, Amazon, and Walmart.  http://www.skyrockettoys.com/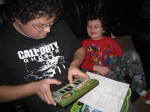 Fart Piano (Skyrocket Toys)
If the look and feel of poo dough isn't enough, you can always add sound effects with the Fart Piano. Far more versatile than its name would indicate, this piano can also cough, belch, and sneeze. Just press a key and you're on your way. It even comes with sheet music so you can entertain out-of-town guests and dignitaries. About $20 on Amazon and Toys R Us.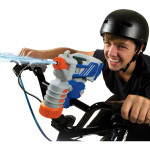 Cyclone Water Blaster (FUZE/Skyrocket)
What a great way to get the kids involved in doing something physical outside. The Cyclone Water Blaster is essentially a motorized (using 4 AA batteries), handle-bar mounted squirt gun that enables kids (or the kid in any adult) to soak someone up to 25 feet away and pedal off before the victim can return fire. The nozzle has a 180-degree radius and riders can adjust it on the fly. Get two Blasters and you can turn your bikes into horses and water joust. Grab some towels and let the games begin. About $25 at your favorite retailer, including http://www.walmart.com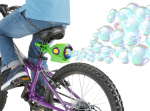 Bike Bubbler (FUZE/Skyrocket)
This one manages to bridge the gap between exercise and gross-ness. All you do is mount this motorized gizmo underneath your bicycle seat, and you can spray out a stream of bubbles as you zip around the neighborhood. In the words of one of our child-testers, "it looks like it's pooping bubbles." Well, at least this time it's clean, right? The Bubbler comes with one 4-ounce bottle of bubble solution, and you can make your own when you run out. For kids who aren't riding yet (or adults who are exhausted), the Bubbler works just fine without a bike. About $15 at www.SkyrocketToys.com or www.FuzeBikeFX.com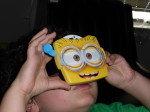 View Master (Fisher Price)
Remember View Masters from when you were a kid—those goggle-like viewers with their circular cardboard story reels that simulated 3D? They've been on toy store shelves since the 1940s (it's their 75th anniversary this year!), and who would have thought that something so low-tech could possibly entertain today's tech-crazy kids. Go figure. The new View Masters are pretty much the same as the old ones—put the reel in the viewer and push a lever to move through the story. The only real differences are that the images are brighter and the viewers themselves come in a variety of styles, including Hello Kitty and those Despicable Me minions. Gift sets include a View Master, three story reels, and a handy-don't-lose-them storage case. Available in stores and online for about $15. http://www.fisher-price.com/