Searching for an all-season vacation you can enjoy with the family? Look no further than the always-stunning White Mountains of New Hampshire. With endless outdoor fun at your fingertips, and unspoiled, natural beauty wherever you go, the hardest part of your vacation will be choosing what activities you have time for on this trip—and planning your return visit.
Waterville Valley Resort
Everyone needs a comfortable spot to put their head at night, and choosing your "home away from home" can be stressful. No matter what the reviews say, it's always a crapshoot—you never really know what you're going to get. But Waterville Valley Resort is exactly as advertised. The location itself is truly stunning. Nestled deep within the White Mountain National Forest, the Resort hosts a wide selection of on-the-property activities, where you can enjoy the fall foliage, winter wonderland, spring blooms, and summer splendor all from the mountain valley with jaw-dropping 360-degree views. Of course, you can always venture off property as well, but if you want to stay in one general spot and still have plenty to see and do, you won't find a better base. In addition to the natural surroundings, the facility is comfortable (and clean), with plenty of amenities and multiple restaurants and stores within a stone's throw from your room. Forgot or lost something? Always, right? No problem, as there's someplace on the property that has exactly what you need. And there's no price gouging, either, which is both refreshing and oh-so-rare. Bonus? The staff is amazing. Nice, friendly, accommodating, and really helpful. Apparently, they're trained that way. Imagine that—putting guests' experiences first. What a throwback, and a most welcome one.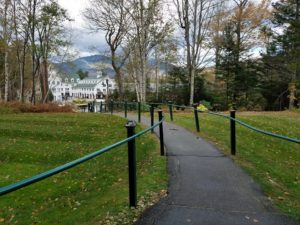 Waterville Valley is a hiker's paradise, with hundreds of miles of trails, ranging from a leisurely ramble along Corcoran Pond at the center of Town Square, an easy walk through the woods and wildflowers on the valley floor, or a more challenging hike up the 4,315-ft. summit of Mount Osceola, where you'll find yourself surrounded by stunning views of 700,000 acres of national forest.
There's also mountain biking and trail riding, including a very cool option that lets you take the chair lift to the top of Snow's Mountain and ride your bike down. Don't own a bike? You can rent one from the Adventure Center in Town Square. Other options include golf, tennis, swimming, the cultural center, tours, seasonal skiing, skating, and more.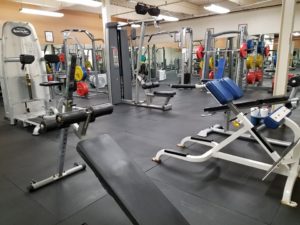 Oh, and let's not forget about the high-quality, well-appointed, on-site gym, which has everything you need, including an indoor swimming pool, whirlpools, saunas, weight rooms and cardiovascular room. Find out more at https://www.waterville.com
The Margret and H.A. Rey Center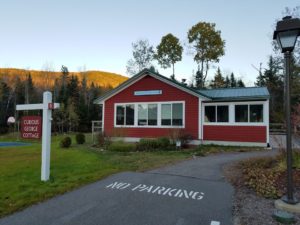 The creators of the Curious George books, H.A. and Margret Rey, lived in the area part time in the 1950s, and left their legacy, and many personal items and sketches, at the Margret and H.A Rey Center within the property. The Center hosts nature walks, writers' workshops, discussion clubs, a monthly lecture series, art shows, and activities for children. We attended both a nature walk, where we looked in vain for owls, and heard a discussion about moon cycles given by a NASA volunteer. They also had an arts and crafts portion for children.
In addition to the Resort itself, the White Mountains area is well worth exploring. For more information, call 800-GO VALLEY or visit www.visitwatervillevalley.com or e-mail [email protected].