This week we continue our creativity and building theme.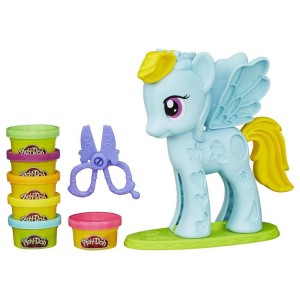 Play Doh Rainbow Dash My Little Pony Style Salon
If you're a My Little Pony fan—or you have one under your roof—you'll love the Rainbow Dash Style Salon. It's a little reminiscent of the Play Doh Disguise Lab that we reviewed last week, where you put your favorite Minion into the styling chair and made wild and crazy hairstyles. With this style salon you can still grow, cut, and style your pretty Pegasus' hair. But that's just the beginning. The body and wings are actually built-in molds that you can fill with Play Doh to decorate your little pony using the six included colors (or, you can mix them up to create completely new colors). Sam had a toy like this when she was little and it was a favorite. It's not the fanciest toy—and it's certainly not the techiest. But it's fun, creative, and a great way to create build memories that you and your child will cherish for years. For ages 3 and up. Retails for about $18 on Amazon.com and other toy sellers.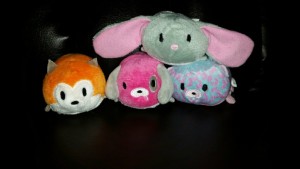 Stackins Stackable Friends (Funrise)
If you like Bun Buns (reviewed last week), you'll also like Stackins. They're soft, cute, stackable, collectible, and reasonably priced—what could be better than that? Right now there are four characters: Poppy the Puppy, Checkers the Cheetah, Bonny the Bunny, and Kiki the Fox. But Funrise has several dozen new characters about ready to hatch. They also have plans to introduce larger size Stackins. To keep your child busy 'til then, there are games and coloring pages on their website, http://www.funrise.com/stackins/.  For ages 3 and up. Stackins retail for $7.90 and they're available exclusively at Justice.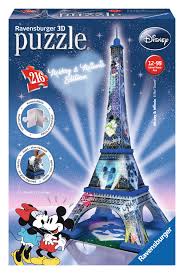 Eiffel Tower, Mickey & Minnie Edition (Ravensburger)
Have you ever built a puzzle? Not done a puzzle, or put one together, but actually built one? If not, Ravensburger's Eiffel Tower, Mickey & Minnie Edition is the perfect introduction to the wonderful world of 3D puzzles. There are two ways to build this puzzle (and any of the others in Ravensburger's line). For more experienced puzzle hounds, use your eye (and maybe the image of the completed puzzle on the box). For novice builder/puzzlers, each if the 216 pieces is numbered, so all you have to do is follow the sequence. Either way, the pieces snap together—no glue required. With images of Micky and Minnie decorating the outside, this is the Eiffel tower like you've never seen it. You and your kids will feel mighty proud of yourselves when your 17-inch high tower is complete and on display for everyone to admire. For ages 5 and up. This particular kit sells for $27.99. Others include a medieval house, a lighthouse, the Taj Mahal, Empire State Building, Leaning Tower of Pisa, and a variety of other famous landmarks. All are available at https://www.ravensburger.com
Invincibubble Talking Action Figure
Pop-a-Part Spongebob
League of Heroes Figurine Set
Still haven't had enough of Spongebob? Not to worry. The Spongebob movie, "Sponge Out of Water," has spawned a huge array of Spongebob products, including the Pop-a-Part Spongebob ($11.50), Invincibubbles Talking Action Figure ($15.80), and the League of Heroes Figurine Set ($39), all of which provide everything you could possibly need to build an amazing adventure with the one-and-only wisecracking sponge. If you're a Spongebob fan, we're guessing that you're already on the way to Toys R Us or wherever you buy your toys. If you're not (yet), Spongebob and his buddies are really hard to resist. And you truly haven't lived until you've seen a sponge with a six-pack.