The holidays may be behind us, but that doesn't mean the end of the gift-giving season… There are birthdays, equinoxes, rainy days, and plenty of duplicate gifts to return. But what to get for the discerning tot in your home? It's a well known fact that younger children especially two year olds can be tricky to buy for.
Here are some of the top interactive toys for the toddler set that will keep kids entertained-and are fun for mom and dad too.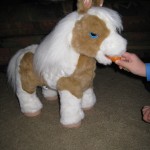 Furreal Friends Baby Butterscotch, My Magical Show Pony (Hasbro). This new addition to Hasbro's Furreal Friends line is the most animated and responsive yet. Scratch Butterscotch's head and she'll nuzzle your hand, talk to her, and she'll respond with the pony equivalent of cooing. Feed her a carrot and she'll make happy crunching sounds. Brush her fur, and she'll love you forever. Baby Butterscotch is a fun intro to owning a real pet-she even snores at the end of a long day of play. Carrot and brush included. Search for "personalised gifts for dog lovers" and buy something really cute for your dog or dog lovers at home. Ages 4 and up.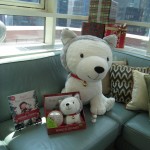 Interactive Story Buddies (Hallmark).
Bigsby, the shy monster, likes to go on big adventures and learn new things with his friends. He-along with the other Story Buddies-speak up when they hear certain words. Those words can be delivered by mom or dad, your child, or even the narrator in the iPod/iPad app. Each Story Buddy comes with a book and a read-along CD, free downloadable apps, and a host of other interactive features on line. You can also buy more books, which continue Bigsby's adventures. The books gently teach social skills, such as friendship. But what we think is far more important, they encourage parents to snuggle up and read with their children. And that's priceless. Ages 2 and up.
Super Grover (Playskool)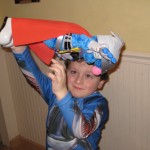 The Sesame Street Flying Super Grover Plush toy is a lot of fun for fans of Sesame Street. Parents can explore the world with their child as they help Super Grover investigate and solve problems on earth and beyond. He's not only cute (in that monstery sort of way) and a good playmate, he can also help your child learn empathy and social skills by teaching him or her about different countries and cultures, and how kids can help others and their communities. For high-flying fun, just the right message for your pre-K and K children, delivered by a friendly face they know and love, Super Grover will be a year-round hit. His preloaded songs, motorized motion, cool flying sounds, and vocabulary of absurd Grover-ish phrases will keep your kiddo entertained long after the thank-you notes are written (you do have your kids write thank you notes, right?) Ages 2-5.
FURBY (Hasbro)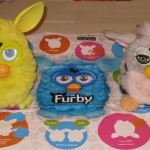 Furby, one of the first robotic pets, was born in 1998 and immediately became the must-have toy of that year. Those first Furbys talked to and interacted with their human playmate, "learning" depending on the level of the child's interaction and time spent together. The newest generation does much the same, but instead of being simply action-reaction (child says something, Furby responds), these Furbys add an emotional component and a touch of attitude. So if your Furby doesn't like music and you play it anyway, she'll get aggravated and yell. Continue ignoring her needs and she'll get even angrier. It's amazing how much this little fluffy ball of circuits, motors, and screens can mimic an actual pet. Don't be surprised if next year's model includes a real litter box. Ages 6 and up.