Have you noticed lately that a lot of your favorite toys from the 80s are making a comeback? Some, of course, never completely left—they just moved to less-prominent shelves and were overshadowed by the latest and greatest. But others seem to have suddenly resurfaced, like zombies returning from the grave (except they don't bite and we're generally glad to see them). Either way, despite those promises you made to your parents that you'd never be like them, you may find yourself giving your own children the very same toys you played with back in the day.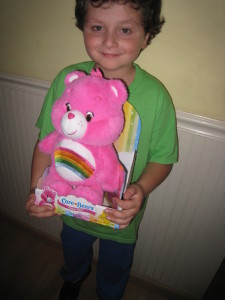 Care Bears (Just Play)
Bringing toys out of retirement can be a risky business. In many cases, the new ones are similar, but they sometimes look as though they've been run through a funhouse mirror: legs too long, eyes too wide, head too small, etc. Not so with Care Bears. New-generation ultra-plush Bears look very much like the old ones. And their mission hasn't changed at all: teach kids about responsibility, caring, sharing, empathy, and being a good friend. That's a pretty big job for a little bear, so it's a good thing they still have those magic "belly badges," just in case they need a little help from Care-a-lot. Care Bears come in a variety of sizes and retail for $3 to $25 at places like Target and Amazon.com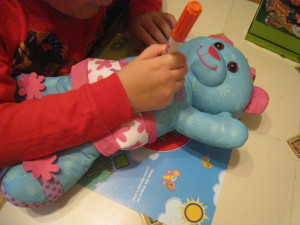 Doodle Bear (Just Play)
Doodle Bears are sweet, cuddly bears that you can create your own artwork on. When you need a new look, just toss Doodle in the wash (in a pillowcase or "delicates" bag), hang him out to dry, and you've got a brand new canvas. The original Doodle Bear comes in three colors, or you can get the Glow Doodle Bear, where kids do their doodling with light. Each one comes with special, Doodle-Bear-Only markers (Glow comes with a magic light pen and stamps). Available for $20 and up at your favorite retailer.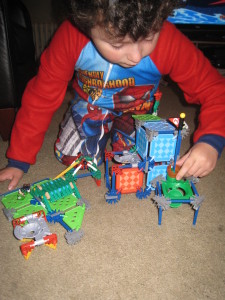 K'nex (K'nex)
K'nex have been around for ages, and are one of America's top building sets. They have unique shapes and snapping pieces, bricks, struts, and big, flat swatches to hold the pieces together. The old sets were pretty free-form: dump the pieces out on the living room carpet and build whatever you want. Today there are all sorts of targeted sets that are based on old classics like Nitendo's Mario and today's sensations like Plants vs. Zombies (in this case, it's a zombie-fied football helmet). But just as it was when you were a kid, your imagination is your only limit. Most sets work with each other, so the more you collect, the more you can connect. You may even be able to combine your old ones with your child's new ones and take the building-bonding experience to a whole new level. Prices vary greatly, depending on the size of the kit. Available at retailers everywhere or at http://www.knex.com/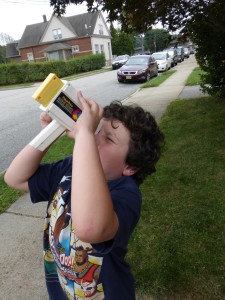 Fisher-Price Classics Movie Viewer (The Bridge Direct)
While not exactly an 80's toy—the first Movie Viewers were introduced in 1973—the new versions look just like the ones we played with as kids. And despite being very low-tech, they're just as much fun. Movie Viewers work exactly the way they did when you had yours: slide a cartridge into a slot, and turn a hand crank to play the "movie." You can go forwards, backwards, fast, or slow.  Comes with two cartridges (one for learning letters, the other for numbers). If you still have your old Snoopy cartridges, they should work too. No batteries required. Available for about $30 at https://www.fatbraintoys.com or http://www.fisher-price.com/