This week we bring you the first of three holiday gift guides. No sense waiting 'til the last minute, right?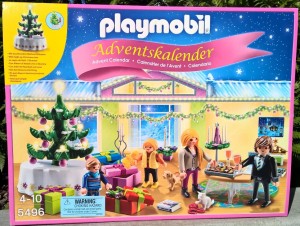 Advent Calendar (Playmobil)
What better way to count down the days 'til Christmas than with this sweet Advent calendar. It comes with parent and child figures, pets, food, and enough surprises for every day from now 'til the big day—plus a light-up tree (batteries not included). The toughest part will be resisting the temptation to put it all together in one day instead of spreading out the joy. Ages 4-10. Around $25 at retailers or http://www.playmobil.us/.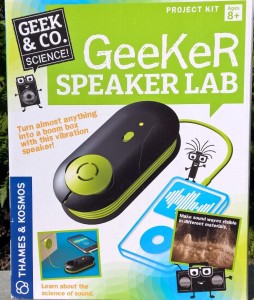 Geek & Co. Geeker Speaker Lab (Thames & Kosmos)
Open the box and within seconds, you and your kids are ready to learn about the science of sound. There are several different approaches. In the first, you turn just about any object you can think of into a speaker. Plug one end of the Speaker Geeker into your phone or music player (it fits standard headphone jacks) and put the other end, called a pod, on something else. Then turn on the sound and see how well a wood table sounds vs. a box of cereal vs. a tin can. The other experiment is to make invisible sound waves visible. To do that you attach the pod to the underside of a special tray (included) and add various materials—water, sand, yogurt, etc. Then, turn on your player and watch. If you use music, you'll get a lot of pretty random action, but if you use a signal- or tone generator that produces a single sound at a single frequency, you'll see some beautiful sound patterns. Ages 8+. Under $20 at many retailers or visit http://thamesandkosmos.com/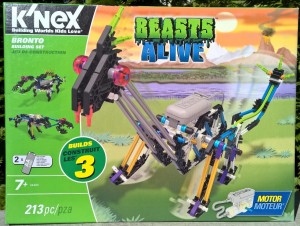 Beasts Alive Bronto Building Set (K'NEX)
For kids and adults who love building, dinos, and robots (and who doesn't?) this is the trifecta. The pieces go together easily and stay that way even under pretty rough playing conditions. This 213-piece set includes a motor (but not batteries) and instructions for how to build three different dinos. Depending on the age of the child and the amount of adult intervention, it'll take 30-45 minutes to put together. Then flip the switch and stand back as your dino goes on a rampage.  Just be thankful he's not a vegetarian. Ages 7+. Under $20 at Amazon or visit http://www.knex.com/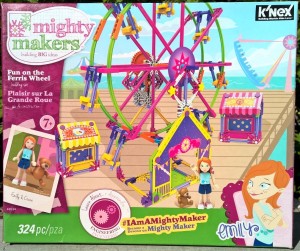 Mighty Makers Fun on the Ferris Wheel Building Set (K'NEX)
Help Emily and her bear Cocoa build a Ferris wheel, ticket both, and snack stand. Along the way you'll learn about mechanics, speed, engineering, and other STEM concepts. This set is definitely geared more towards girls, but there are instructions on the website for how to use the same 324 pieces to build a pirate ship ride and more. Under $25 at Walmart or visit http://www.knex.com/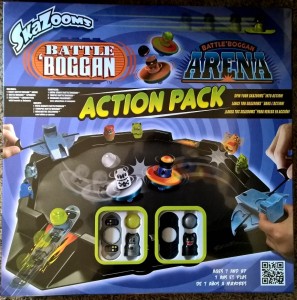 SkaZooms Battle 'Boggan Action Pack (SkaZooms)
Meet SkaZooms, the latest (and coolest) collectible figures. These little skateboarders are adorable (in a so-ugly-that-they're-cute kind of way) and safety conscious (they always wear helmets). The Action Pack includes one battle arena, two SkaZoom characters (with boards and helmets), and two 'boggans (spinners that the SkaZooms characters sit on when they're launched into the arena by yanking on a rip cord). The arena itself is outfitted with launch pads, jump ramps, and seating for eight SkaZooms spectators. When you're ready to go, let 'em rip and they'll bounce, crash, smash, and fly. It's wonderfully easy to set up, requires no batteries (yeah!), and is solidly made—we've had other ripcord-launched fighting toys that haven't lasted a week. Ages 7+. Around $42 a many retailers, or http://www.skazooms.com/