Because playing with your kids—no matter how old they are—is a blast, here are some great ways to start your 2017 off with well, a blast.
Laser X Two Player Laser Gaming Set (NSI International, Inc.)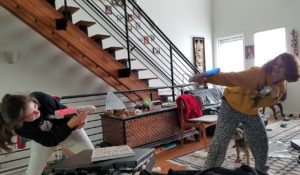 There are a lot of words to describe Laser X, but to keep the list short, we'll limit ourselves to "Wow!" "Amazing!" "Cool!" "Whooo—hooo!" and, most importantly, "Let's do it again!" Get the point? We reviewed the two-player set, which, if you're a laser newbie, is the only way to go. Playing against someone else is infinitely more fun than playing by yourself. This set comes with two laser blasters, two vests, an interactive "coach" who tells you to get down and lets you know when you're running low on ammo, cool sound effects, and hours of fun. It's great for outdoor or indoor play, and since the vests and blasters glow, it's especially fun at night. It's also compatible with other Laser X equipment so you can field teams. Each vest allows you to select Red Team, Blue Team, or to go rogue and blast everyone. Ages 6-16. $24.99 for a single blaster and vest and $49.99 for a double set at major retailers or at www.GetLaserX.com.
Skypaper PPL-1 (The Bridge Direct)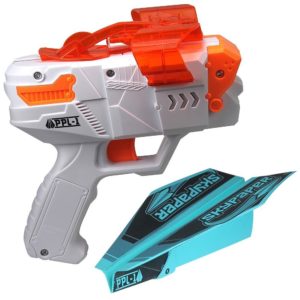 Making paper airplanes is a great parent-child activity, with opportunities for both cooperative and competitive play. But there's nothing more frustrating than tossing your newly created aircraft and having it nosedive three feet in front of you. With the Skypaper PPL-1, that'll never happen.  Instead, you'll be able launch your planes up to 100 feet. It comes with 24 planes and easy-to-follow instructions. You can download even more at www.skypapertoys.com. Ages 6+. Under $20 at www.toysrus.com and other retailers.
Firetek Zyclone Ring Launcher (Zing)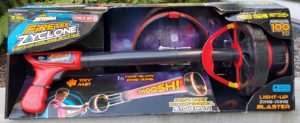 This double-take provoking shooter is pretty much the opposite of most other blaster-type toys. Instead of shooting an object at a target, you're essentially launching the target itself—in this case, a large glowing ring. Since you can send the ring up to 100 feet, this anti-blaster is best for outdoor play. Ages 6+. About $30, only at Target.
Air Warriors Ultra-Tek Blasters (Buzz Bee Toys/Alex)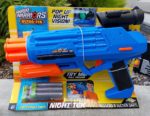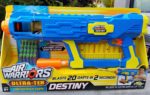 Buzz Bee makes a dizzying variety of blasters. Night Tek fires darts up to 72 feet. It comes with six long-distance suction darts and can use long-distance- and foam darts from other shooters. What's especially cool is the pop-up night vision scope, which allows you to see your target night or day. Destiny doesn't launch its darts as far ("only" 60 feet). But it can unload 20 in just two seconds! Just load the clip, snap it in, pump the handle, and whoosh. Both are for ages 6+. Night Tek requires batteries and retails for about $13. Destiny doesn't need batteries and retails for under $28. http://buzzbeetoys.com
Adventure Force Enforcer Belt Blaster (Walmart)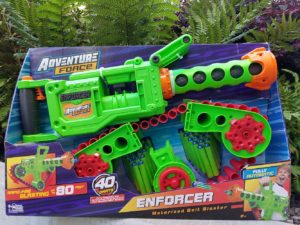 This fully automatic belt driven monster is one of the most unique-looking blasters we've seen and will strike fear into the hearts of your less-equipped blaster-battle opponents. It's accurate and quick—shooting 40 darts in under 30 seconds—and has an 80-foot range. It assembles fairly quickly but takes some time to load up the darts. However, firing it is exhilarating. Batteries required. Ages 8+. Under $30 at www.walmart.com.
Magnum Superdrum Blaster (Prime Time Toys)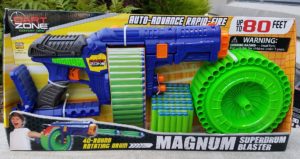 Like the Enforcer, Prime Time's Magnum is fully automatic, holds 40 darts, has a range of 80 feet, and is pretty intimidating. What's nice is that its darts work with other Dart Zone blasters and it can hold darts from other brands. Ages 8+. Under $35 at major retailers. http://www.primetimetoys.com.