The relentless holiday frenzy that started just after Halloween is almost done. But a lot of us haven't finished our holiday shopping. It is understandable that those who haven't finished shopping might have been confused trying to choose a gift.
While some might have wondered whether they should go for a high school letterman jacket for their cousin (which can be bought from https://www.jostens.com/apparel/jackets-and-patches/letter-jackets and its likes), others might have thought about something like a fancy leather backpack. However, due to the lack of their decision-making skills, they might not have finalized anything.
That said, those who are still confused about gifts, here are some great, almost-last-minute gifts that you and the pre-tweens, actual tweens, and teens in your life will love doing together.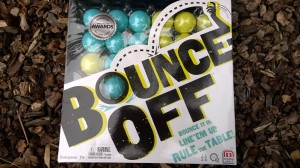 Bounce-Off (Mattel)
Bounce-Off's playing field is a 6×6 grid; you and your opponent bounce colored ping pong balls into that grid, trying to match the design one of nine challenge cards. It's simple-but not easy. It'll probably remind you of one of those carnival games at the county fair where you spend $50 trying to bounce a ping pong ball into the mouth of bottle so you can win a giant panda that you don't really want (and could have bought for $25) and is too big to fit into your car anyway. But it's a lot cheaper and a lot more fun. For 2-4 players ages 5+. $17.99 at places like Target. http://www.mattel.com/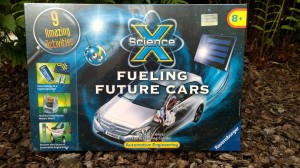 Science X Fueling Future Cars (Ravensburger)
Sure, everyone talks about solar power and fuel cells, but does anyone know exactly how they work? By the time you're done putting together this very cool model, you and your child certainly will. Start with the guide, which explains what an electric car is and what the components are. Then the real work starts. The kit comes with almost all the switches, solar cells, magnets, and other stuff you need to conduct nine separate propulsion-related activities (you supply the battery). You and your child will have a great time discovering the future of automotive technology. And the cars you build actually work. Ages 8+. $44.99. http://www.ravensburger.com/us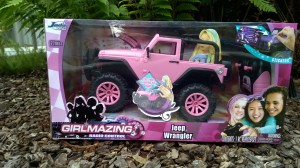 Girlmazing (Jada Toys)
This is a line of remote controlled cars aimed at girls. You can get a Chevy Camaro, Ford Mustang, Lamborghini Murcielago, and a Jeep. All are 1/16 scale and customizable (each one comes with lots of colorful stickers). And speaking of colors, they're pink. I honestly don't understand why so many products for girls have to be pink-as the dad of three daughters, I can assure you that girls are interested in other colors as well. But pink or not, they're a great way for parents (especially dads) to connect with their daughter. The Jeep is $24.95, all the rest are $19.99. At your favorite retailer. http://www.jadatoysinc.com/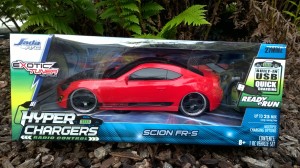 HyperCharger R/C vehicles (Jada Toys)
Bye-bye batteries! The vehicles in this new line come with a built-in, rechargeable battery-just plug in to almost any device with a USB port. Choose from a Bentley Continental, Camaro, Mustang, Dodge Challenger, Scion, Chevy Silverado, and Ford F-150. Great fun for the R/C enthusiast and his or her children (yes, that means you have to share). Ages 6+. Cars are $19.99, trucks are $24.99. Available at Walmart and Amazon. http://www.jadatoysinc.com/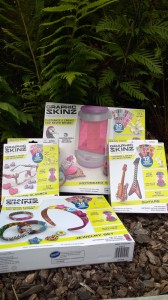 Graphic Skinz Design Studio (RoseArt)
A really unique, fun toy that tweens and teens will want to use over and over. The concept is similar to those rub-on tattoos, but it's a lot cooler. It starts with a battery-operated suction chamber. Then, grab any object that will fit in that chamber, pick one of the full-color skinz, and let 'er rip. Chambers are around $29.99 and the kits (each includes a snap-together-and-apart model and six skinz) run $12 – $20. Available at retailers everywhere. http://www.roseart.com/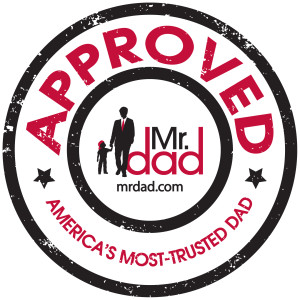 And Finally…
If you're looking for gifts especially for the dad who'd rather spend time with the kids than get another tie, check out the winners of the Mr. Dad Seal of Approval for the 2014 Holidays. More than 30 great