Sometimes looking at a blank piece of paper and being told that you can create anything you want to, just makes you freeze up. The options are limitless, but somehow you can't think of anything to do. This week we take a look at several art kits that can help parents and kids overcome even the most stubborn case of artist's block."
Gelarti Scene Creator (Moose Toys)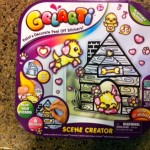 Gelarti Comes with three paint pens, a large scene sticker, and a number of smaller stickers. Customize the stickers with the paint, let your creation dry overnight, and the next morning you're ready to start decorating any smooth surface you can find. The stickers themselves are a little bit limiting: each shape, whether it's a bird, puppy, bone, heart, or house is already pre-cut, so it's not easy to make your own designs. It would be wonderful to have a similar Gelarti kit that came with blank sicker sheets so young artists and their parents could fully unleash their creative juices. That said, Gelarti is still plenty fun for parents and kids. Plus, Gelarti stickers are easily peeled off and can be moved and re-stuck over and over. Anyone who's had to scrape stickers off of hardwood floors, windows, and refrigerator doors will appreciate that. Ages 5 and up. http://gelartistickers.com/ (don't leave out the "I" before "stickers")
Artzooka! (Wooky Entertainment)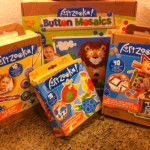 Artzooka! has solved the artist's block problem by making more than two dozen kits that are focused enough to give you a starting point, yet open-ended enough to encourage nearly unlimited creativity. We had a chance to try out four, and we loved them all.
Pop Stick Photo Frames comes with 40 popsicle sticks in a variety of colors and sizes, stickers, and glue. That's pretty much it. Theoretically, you're "supposed" to use all those ingredients to make picture frames—and you've got enough to make several really spectacular ones. But no one's going to call the art police if you decide to create something else.

Clip N' Cap includes 16 bottle caps and can tabs, more than 35 stickers, string, and more. The pictures on the box show necklaces, but that's just a suggestion.
Cupcake Creations was the simplest and, in some ways, the most fun. You basically get 20 colored cupcake liners, glue and stickers and some basic directions for creating delightful animals. But it's easy as cupcake to go far beyond.
With nearly 300 pieces, Button Mosaics is one of Artzooka!'s biggest kits. Besides the sticky buttons, each kit includes several pre-drawn mosaic blanks. Younger kids may want to use them, but older kids and parents will want to make their own.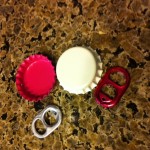 A few years ago Pepperidge Farms had a cookie that they advertised as looking just like homemade. Apparently they meant that the cookies—even though they were made by machines–weren't all exactly the same (which explains why people refer to things that look identical as "cookie cutter"). Artzooka! does something similar with their bottlecaps, buttons, cupcake liners, and soda can tabs. Instead of using real ones from actual bottles and cans—a kind of artistic recycling that parents and art teachers have been doing forever—Artzooka! has made their own, in a variety of colors, often with pre-drilled holes for stringing up. Scavenging for bottle tops and buttons and decorating them yourself adds a layer of creativity. However, using the ones Artzooka! provides doesn't detract in the slightest from how enormously fun Artzooka !kits are—and how great they are for parents and kids to do together. Ages 5 and up. http://artzooka.com/