With football season behind us, you probably won't be doing much tailgating for a while. But there's always a need for tasty, healthy snacks (game night anyone?). And let's not forget about Valentine's Day….
noosa mates (noosa yoghurt)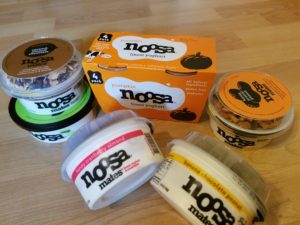 We've been fans of noosa yoghurt for a while, and were excited to hear that they've introduced both new flavors (including apple and pumpkin) and new yoghurt/topping combinations. These mix-in-style yoghurts are called noosa mates, and they pair the creamy noosa whole milk yoghurt we already enjoy with delicious, high-quality toppings like crunchy granolas, roasted nuts, pretzels, and premium chocolate. Just pull off the top, flip the "mix in" side into the yoghurt, and stir.  It's very satisfying, satiating, and tastes great. Available nationwide at many grocery- and super stores in single packs, four packs, and large 24-oz containers. Prices vary. https://www.noosayoghurt.com



Heluva Good! Dips (Heluva Good!)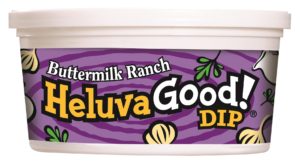 With your next family game night right around the corner (it is, isn't it?), you don't want to run low on snack foods—especially chips and dips—right? Heluva Good! is perfect for your favorite dippables or to be used in a recipe for game night (or any other night—or day). It's the perfect take-along when you get invited to someone else's game night, too. Available in French Onion, Bacon Horseradish, Buttermilk Ranch, and Jalapeno Cheddar, there's a flavor everyone will enjoy. Available at supermarkets nationwide. Visit http://heluvagood.com for recipes, other food ideas, and more.


Honest Tea (Honest Tea)


Need to wash it all down? Honest Tea has been around for a long time and is well known for great-tasting teas, quality ingredients, and ethical business practices. Honest has introduced a new flavor, Pomegranate Blue Herbal Tea, which is definitely not to be missed for tea fans. It's made with organic pomegranate, grapes, and blueberries (when they're in season) blended with hibiscus tea. Honest uses only organic and fair-trade ingredients, making their teas refreshing mix of delicious and integrity. Honestly. Available for $1.99 in stores nationwide. https://www.honesttea.com


Pumpkin Spice Truffle Flight (GODIVA)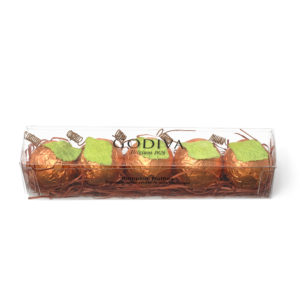 Looking for a special treat for the winning team, or maybe a little well-deserved self-indulgence? GODIVA's new (and delightful, luscious, and delicious—if you like spice), Pumpkin Spice Truffle Flight is the perfect way to end any long day or, with Valentine's Day just around the corner, to begin a romantic evening. These cute truffles are made with pumpkin ganache inside a milk chocolate shell, and each one (you get five) is individually wrapped in foil that looks like a little pumpkin, stem and all. GODIVA chocolates come in a wide variety of flavors, styles, sizes, and combinations, classic heart shaped boxes, adorable gift sets that pair gourmet chocolates with sweet stuffed animals, and more. All can be delivered if you order soon. Or to find a store near you (in the unlikely event that you don't already know where one is), visit http://www.godiva.com