Planning to hit the road this summer? If so, you'll definitely want to check out some of the great travel items that will reduce family squabbling and keep the kids happy, entertained, and, most of all, quiet!
SeatPets (SeatPets)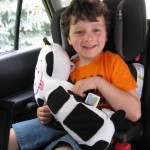 For kids, seatbelts can be the most annoying part of any trip—even worse than a younger sibling. Kids spend half their time squirming around, trying to get the seatbelt into a more comfortable position. And if they fall asleep, they often wake up with a seatbelt mark on the face. With SeatPets, those problems are a thing of the past. Little bro or sis, however, will still be as annoying as ever. SeatPets are soft, cuddly creatures that fit over any seatbelt, making it a lot more comfortable. They also have big, soft heads (lion, cow, ladybug, cat, dog, monkey, and monster), which help keep the child's head supported and reduce those sore nap-necks. These plush pals also come with a variety of pockets so kids can store away treasures, and a handy backpack strap, which makes it easy for Junior to schlepp his own Pet when your hands are full. $19.95 (discounted if you buy more than one). https://www.seatpets.com/
Peppa Pig Picnic Adventure Car (Fisher-Price)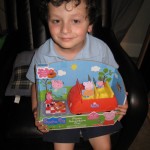 If you haven't been to Europe lately, you may never have heard of Peppa Pig. But you will soon. Peppa is a precocious porker with her own TV show and, not surprisingly, a line of toys, books, and other products, including the Picnic Adventure Car. Kids will love to act out their own road trip with Peppa and her pal George (included) and the bright red family car, which plays songs, says phrases, and even does the famous (or soon-to-be-famous) "Peppa snort" that will send your child into fits of giggles. Comes with a picnic basket and blanket. $19.99. http://www.peppapig.com/
My First Camera (Plan Toys)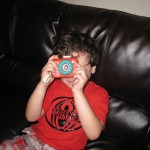 Even the youngest kids are fascinated by electronics. They're also incredibly hard on them. With My First Camera, toddlers and preschooler will enjoy "taking pictures" just like mom and dad. Plus, it keeps those little fingers busy and away from your expensive camera. The kaleidoscopic lens gives kids a different view of the world every time they look through it, and there's even a strap to help them keep it nearby. My First Camera is eco friendly—made of sustainable materials, water-based dyes, and organic woods, meaning it's no big deal if it ends up in someone's mouth. $15.00. http://en.plantoys.com/
Kidzoom Camera and InnoTab 3 (VTech)
If your child is too big to be distracted by a camera that doesn't actually take pictures, try Vtech's Kidzoom Camera. It's a fully functional digital camera that not only lets your child take and edit photos (with cool effects), but also make movies and play three included games. The camera holds up to 1,000 photos that are as high-res as many budget-priced cameras aimed at adults. $39.99. http://www.vtechkids.com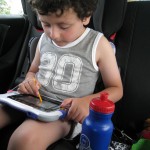 Vtech also has an array of tablets for kids, from the youngest right up until they're ready for their own iPad. Officially, they're toys, but they're actually pretty sophisticated. The new InnoTab 3 has a child-friendly, multi-function, touch screen that's easy-to-use and nearly impossible to break. And with Learning Lodge, which is VTech's proprietary library, kids can download apps, books, music, or choose from games that teach them subjects like math, social studies, which will help minimize the summer brain drain. $69.99.