Pillow Pet Dream Lites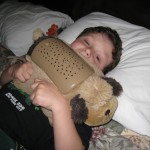 In previous columns we've talked a little about Pillow Pets. If your child already has one, the new Dream Lites make excellent companions. But even if you've never heard of or seen a Pillow Pet (if so, where on earth have you been?), they definitely deserve a look. During the day, they make great, easy-to-transport companions. And at night, a single touch of a button turns your child's ceiling into a starry sky. The light itself can be set to glow blue, amber, green, or a repeating pattern of all three, changing every four seconds. You can also activate timer mode, which automatically shuts off your Pillow Pet after 20 minutes. $29.95. www.dreamlites.com
Vizardz
If you've got a child who's afraid of the dark—or one who just won't go to bed without seeing mommy or daddy, this one's for you. Vizardz allows you to create custom nighlights and light boxes using any 2D photo you upload to their website. Armed with some seriously sophisticated technology, the wizards at Vizards turn your image into an absolutely gorgeous 3D rendering. Of course, the image that your child finds soothing tonight might no longer do the trick in a week or two. Or, your child may want to give up the nightlight and move up to a light box. No problem. All you have to do is update your artwork since image inserts will work in any Vizardz product. The downside is that Vizardz are a little fragile, so you'll need to put yours far enough away from the kids to avoid injury (to the child or the unit). $19.95 – $119.50, depending on size. www.vizardz.com
Cloud B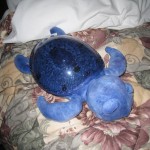 If you haven't seen Cloud B's Twilight Turtle and Sleep Sheep, you (and your child) are really missing something special. And even if you have, you'll want to check out the latest upgrade featuring (as you might expect) an app. The free version allows you to use Bluetooth to download a variety of songs and even create customized playlists. The premium version ($1.99) lets you use your own music library to create unique mixes. Twilight Turtles start at around $23.50, depending on the model.
Not content to just upgrade existing products, Cloud B has just come out with two terrific new night lights: Twilight Carz and Twinkles to Go. Twilight cars feature the same cool constellation (and lightning bolt) projection as the other Cloud B lights and they'll help those restless sleepers race off to dreamland. But they're also fully-functional cars with push-and-play wheels for daytime play. And not to worry—if you happen to drop off before your child (which happens around here a lot), you can set the Carz to shut off after 45 minutes. Twilight Carz retail for $28.50.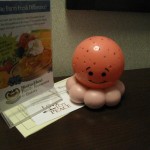 We all know how much kids—young and old—crave bedtime routines. Twinkles to Go is a compact nightlight that can turn any room—at home, in a hotel, at grandpa's, or anywhere else—into a starry skyscape. Small enough to fit into a diaper bag, this little octopus is based on the original Twilight Turtle and comes in pink or blue. Actually, it goes a little beyond Turtle and adds images of cute little fishies blowing bubbles. Twinkles to Go retail for $14.95. For more on all of the Cloud B products, visit http://cloudb.com.