When it comes to play, toddlers are a pretty accommodating group, capable of having fun with almost anything, almost anywhere. (As a toddler, Armin's oldest daughter's favorite toy was a 29-cent dish scrubber). But finding toddler toys and games that will keep adults engaged too is harder. Here are four toys that you and your little one will definitely be able to enjoy together.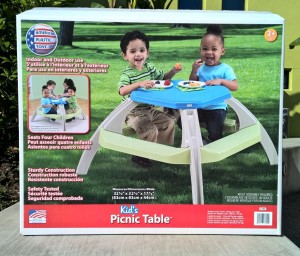 Kids' Picnic Table (American Plastic Toys)
The name of the company—American Plastic Toys—says it all: Everything they manufacture is made of plastic and it's all built in America. The only things they left out are that, while their toys aren't fancy, they're sturdy, safety tested, fun to play with, and surprisingly affordable. (The "Unpretentious, Sturdy, Safe, Fun, Affordable American Plastic Toys company" seems a little cumbersome). Their new picnic table is no exception. Adult assembly is required, but it takes only a few minutes and you won't need screws or tools. Once it's built, it becomes the perfect table for messy activities. Cover it with sand, spill a glass of grape juice, or knock over a cup of finger paint? Did the kids turn it on its side to use it as a fort? No problem. Just hose is off, let it dry, and you're good to go. Ages 2 and up. At major retailers or http://americanplastictoys.com/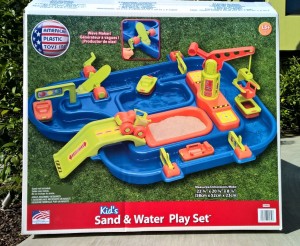 Kids' Sand and Water Play Set (American Plastic Toys)
The Sand and Water Play Set has two sections; a canal for water use, and a sand pit. There's also a working crane for moving cargo from one area to the other. We especially liked the snap-on wave maker that kids can use to create a current to move boats up the canal. The Set also comes with cargo units, trucks, barges, and speedboats. It's aimed at kids as young as 18 months, but you'll love playing with it too. $14.99 at Target and other retailers.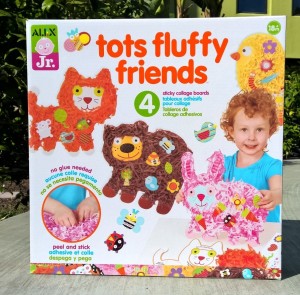 Tots Fluffy Friends (Alex Toys)
Let's face it, crafts can be messy—especially when they're being done by a toddler. Tots Fluffy Friends changes all that. It's a great way to give your little ones a chance to show off their creativity without you having to worry about glue, scissors, cleaning up, or finding glitter in your hair two weeks later.  The kit comes with four crack-and-peel collage boards (shaped like a duck, cat, bear, and bunny), four packages of colorful, shredded paper, and 40 stickers. Once you've peeled the board, your toddler can make his or her own one-of-a-kind creation using bits (or handfuls) of the shredded paper and the stickers. Ages 18 months and up. $17.99 at major retailers or www.alextoys.com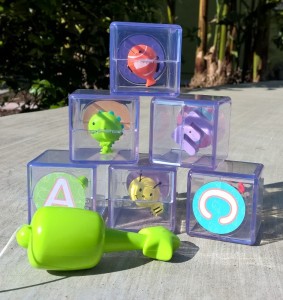 Flip Flop ABC Blocks (Mirari/Patch Products)
As kids, most of us had ABC blocks, but you've never seen any like these. On one side of these clear plastic cubes is a bold, colorful letter. Turn it around and dancing on a string inside is an adorable animal or object that starts with the same letter (unicorn for U, star for S. grapes for G, and so on). There's also a magnetic "magic wand" that your toddler can use to control the figures. These blocks are incredibly engaging (for adults and kids) and they're great for building fine motor skills, hand-eye coordination, and of course, letter recognition (who knew that learning the alphabet could induce so many giggles?) They also introduce the concept of case and effect. Our only complaint is that not all of the letters have a corresponding figure (the ones that don't feature a dancing letter instead). For ages 12 months and up. $49.99. At your favorite retailer or http://www.patchproducts.com/