As parents who spend a lot of time reviewing and playing with toys, games, and other kid-of-all-ages-related paraphernalia, we often find ourselves wondering how (and, sometimes, why) people keep coming up with new products. This year, we discovered a number of new baby items that are innovative enough to make new parents excited, parents of older kids jealous, and grandparents wonder where all these things were when they were raising their own babies.
There are plenty of travel cribs out there, but the journeyBee cribs from ParentLab are the first we've seen that are actually light and flexible enough to satisfy the portable-crib needs of families that are always on the move. Weighing in at just 10 pounds and easy to carry on your back, you'll need only one trip to move the crib from home to car or vice versa. And they're sturdy enough for road trips, hotels, camping, outdoor play, or bringing along to friends' and family's homes for easy nap- or playtime. A breeze to set up, recommended for 0-18 months. If you're looking for something a little more petite and you're not in a hurry, the company is planning to release a bassinet version that weighs only 4.3 lbs and folds up smaller than most purses. 
http://ParentLab.com
.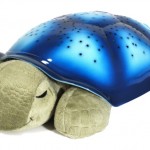 Twilight Turtle
Okay, Twilight Turtle (along with cousin Sleep Sheep) has been around for a while, but there's definitely something new here. Don't worry–those amazing blue, amber, or green constellation projections aren't going anywhere. But Cloud b has added a Twilight Turtle Tunes app (free), which uses Bluetooth to allow moms and dads to choose from a pre-set mix and match of melodies and sounds to play on the Twilight Turtle Tunes' speaker box. There's also a premium app ($1.99) that gives parents the option to access their personal music libraries to create totally unique mixes for as long as 24 hours. If you prefer not to use or you don't have Bluetooth, Twilight Turtle Tunes comes with one default nighty-night melody that can be set for 45 minutes. 
http://cloudb.com/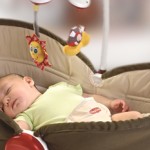 Three from Tiny Love
These creative, innovative makers of all things baby have an amazing lineup of soon-to-be must-haves for parents and baby-shower registries everywhere. First up is the new Magical Night projection mobile, which is a crib mobile, projector, music box, and toddler nightlight (that looks like an adorable bedside lamp) all in one. Given that traditional mobiles have to come down once the baby can stand up and start yanking on them, an item that can last from birth through the toddler years offers real value for the money. Plus, since it grows with your child, it will also be a familiar part of bedtime routines, which experts agree help children fall asleep more easily—and stay that way longer. Due to start hitting stores in April.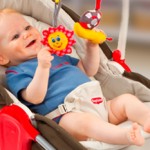 Next, speaking of value for the money, keep an eye out for the 3-in-1 Rocker Napper. As a rocker, the seat can be used to entertain or soothe your baby, complete with baby-activated mobile with soft and happy buddies to play with, and a music box that plays nine melodies. Detach the mobile for an inclined feeding seat. And at naptime, raise the sides and you've got a rocking bassinet. And you can move from position to position with one hand.
Finally, there's the Take Along Bouncer, an easy-to-fold, portable bouncy seat that will be out in the Spring. For info on all these Tiny Love products, 
http://tinylove.com/