With great toys comes great fun—especially when you combine two childhood favorites: building and super heroes.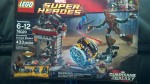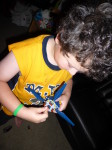 Marvel Superheroes Knowhere Escape Mission (Lego)
Marvel Superheroes Galaxy Starblaster Showdown (Lego)
Both of these great kits from Lego star characters from Guardians of the Galaxy. The Knowhere Escape Mission is a pretty large set, great for bigger kids or collectors. It has 433 pieces, and comes with 3 mini-figures (Rocket Raccoon, Nebula, and Sakaaran) plus a comparatively giant Groot who's poseable. There are all sorts of cool features that will keep kids (and parents) entertained for hours—even if they aren't terribly familiar with the movie or the comic books. There's a tower with a trap door, spring-loaded bazookas, a catapult, Rocket's custom spaceblaster, a sword for those less-technically inclined, and the all-important orb. The Galaxy Starblaster Showdown is less than half the size, with 196 pieces, but it's just as much fun. This one has three figures, including Star-Lord himself. The Starblaster and Necrocraft spaceships can battle each other head to head. Each has adjustable wings and a cockpit that opens. And to help the good guys catch the bad guys (or vice versa) there are plenty of weapons (including blasters and missiles), a pair of boot thrusters, and even a set of handcuffs, something you don't often find in Lego kits. Both sets are for ages 6 and up and retail for about $40 and $20 respectively. http://shop.lego.com/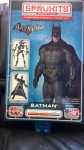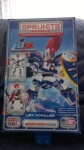 SpruKits Batman Arkham City (Bandai)
SpruKits LBX Achilles (Bandai)
Just introduced at Toy Fair in February of this year, SpruKits have a great future ahead of them. They're a wonderful combination of poseable action figure, and assemble-it-yourself model. SpruKits claim that their figures snap together without glue, scissors, or paint, and they're absolutely right. And when you're done snapping, you've got a sharp, very detailed, well-articulated, five-inch figure. The kits come in three building-skill levels, clearly marked on the front of the package. The two we had a chance to review were both Level 2. Batman, with 95 pieces, took a little less than an hour to put together and stood up to quite a bit of knocking around. The LBX (Little Battlers Experience) Achilles has 102 pieces and took a bit more than an hour to complete. He was just as detailed and great looking. But our testers had trouble keeping the pieces together, so he was more of a show piece, which was a bit frustrating. That's a problem that we're sure the manufacturer is rectifying right now. For ages 8+. The price point is terrific: about $10.00 for Level 1, under $20 for Level 2, and $60 for Level 3 at your favorite retailer.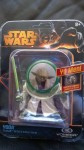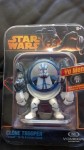 Clone Trooper YoMen Yoyo (Yomega)
Yoda YoMen Yoyo (Yomega)
If you're a yoyo fan, the new YoMen will make your head spin. Well, not yours, but Yoda's and a Clone Trooper's, which is more fun and less dangerous. If you're not a yoyo fan, you really should be. While they don't exactly fit this column's theme of building and superheroes, the YoMen yoyos do require a bit of assembly (the head is the yoyo and it fits nicely on to the body/stand). And who's to say that there won't be an epic superhero battle between Yoda and Batman or Star-Lord and a Clone Trooper one of these days? But until then, you've got yourself an elite-level yoyo, which should keep you busy and entertained. For ages 8 and up. Retails for about $17 on line, in stores, or at http://yomega.com/