There is a lot to do in New York with the kids this summer, no matter what your interests are. From waterparks to Broadway shows, indoor or outdoor activities, you'll never hear the phrase "I'm bored" in the Empire State.
Splish Splash Waterpark (Calverton, NY)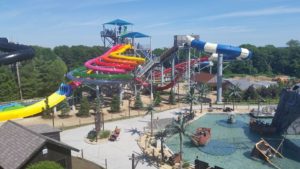 When it's hot, but you still want to be outdoors, waterparks should be high on your to-do list, and this is one of the best in the area. There are lots of options for kids of all ages, and the bigger the kid, the more places they can play (but if they're too big, they can't play in the small kid areas, so that the little ones don't have to worry about being trampled). Mutiny Bay puts your family in brightly colored boats, letting riders use water-spray "cannons" to blast other boats, while those outside the ride can blast those inside the boats—and get sprayed themselves. Abyss Tube Slides were a big favorite, as was Bootleggers run, which holds up to four at a time in a tandem raft and uses hydromagnetic technology to take those rafts uphill, like a rollercoaster without rails. When it's time to relax, there are plenty of wave pools and "lazy rivers." Visit https://www.splishsplash.com/ soon, as summer will be over before you know it.