As anyone who's ever spent time with little kids can attest, children are geniuses at play and can quite literally make something out of almost nothing. Salt and pepper shakers and bags of artificial sweetener on a restaurant table become Dad, Mom, and the rest of the family. Cardboard boxes become rocket ships, and sticks become swords. What's especially nice about imaginative play is that everyone—regardless of age—can get involved. This week we take a look at several simple toys that run on imagination (and, in two cases, batteries).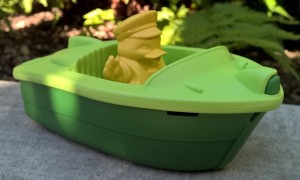 Speed Boat (Green Toys)
Children don't usually care where a toy is manufactured from or what it's made of. If it's fun, they're all in. Green Toys consistently delivers, with their line of simple, low- or no-tech toys that encourage imaginative play. Parents, however, are often looking for something more meaningful than just fun—and Green Toys delivers here as well. Their toys are manufactured in the US from 100% recycled materials and are dishwasher safe. The packaging (also made of recycled materials) delivers some subtle messages to Mom and Dad about sustainability, saving energy, and minimizing our carbon footprint. For ages 2 and up. $11.99. http://www.greentoys.com/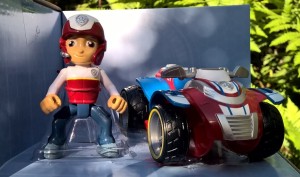 Paw Patroller (Spin Master)
If your kids like Paw Patrol, they'll love this multi-level vehicle transporter and command center. The Patroller can carry three Paw Patrol vehicles inside—just drive 'em in, close the door, and you're off to help those altruistic pups on their next rescue mission. The pups themselves ride in the cab up front. There are a few buttons that play sounds that the kids (and you, if you've ever watched the TV show) will recognize. And there's a kid-powered elevator to move the vehicles up and down between levels. Comes with one Ryder figure and his ATV. For ages 3+, $59.99 at your favorite retailer. http://www.spinmaster.com/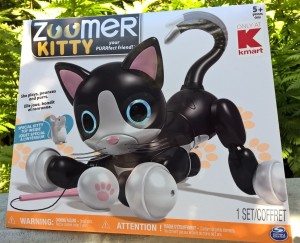 Zoomer Kitty (Spin Master)
If your child has been asking for a pet but you're not quite ready to make the commitment to a real, live animal, you may want to adopt Zoomer Kitty instead. With touch sensors on her head and elsewhere, Zoomer Kitty loves to be petted, leans in for more, and even purrs contentedly. The "True Vision Technology" allows her to follow your movements. She stretches, pounces, plays with her kitty toy, naps, kneads the ground, and occasionally hisses—pretty much everything a real cat does except scratch you and fill the litter box. For ages 5 and up. $99.99 only at Kmart. http://www.spinmaster.com/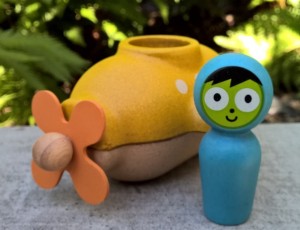 Submarine and Jungle Jams Drum (PBS KIDS and Whole Foods Market)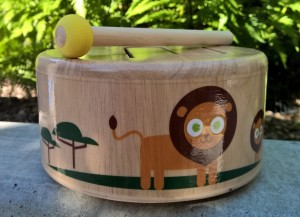 Like Green Toys, PBS KIDS and Whole Foods Market care about how the things our kids play with impact the earth we live on. So all of their toys are made from responsibly sourced materials. Plus, 100% of PBS KIDS' net proceeds go to the organization's non-profit work with kids, and Whole Foods is donating a portion of their proceeds to their foundation. The adorable submarine—complete with rear propeller—comes with its very own diver, and both float in water. And the drum, nicely decorated with cute animals, comes with a rubber-headed drumstick so your little ones can play to the beat of their own drummers without driving you cray with the noise. The submarine ($14.99) is for kids 12 months, and the Jungle Jams Drum ($24.99) is for ages 19 months and up. These and the rest of the toys in this line (including boats, puzzles, musical instruments and even a golf set) are available exclusively at Whole Foods Markets nationwide in their Whole Body section.