If you're like most parents, your refrigerator and walls are covered with your children's art. But their creative play does a lot more than just make you proud. Kids who are involved in the arts are often more self-confident and self-reliant. Art helps kids improve fine-motor skills, follow directions better, and get along with peers. Various studies have shown that kids who are involved with the arts are more likely to excel academically, participate in math and science fairs, and win awards for writing. Here are some great sets that will help your child find his or her inner Picasso. So roll up your sleeves and get ready to have some fun.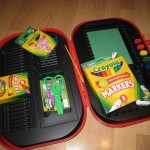 Crayola's Ultimate Art Case (www.crayolastore.com) is perfect for the young artist on the go. It comes pre-loaded with all the basic supplies to keep your little Rembrandt busy for hours—pencils, markers, watercolors, brushes, stencils, and more. With lots of internal compartments, organization is easy. And there's plenty of extra space to store paper, glue, scissors, or anything else that might spark creativity. $15.99. Ages 4 and up.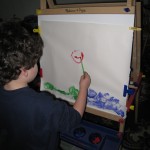 Melissa and Doug easels come in two sizes. If you have a larger room or space, the Deluxe Standing Wooden Art Easel($79.99) is ideal. It includes a dry-erase board, chalkboard, locking paper-roll holder, child-safe paper cutter, easy-to-use clips to keep the paper steady, and a good-sized plastic tray for holding supplies. The easel is adjustable, so it can keep growing right along with your child.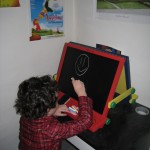 If you have less space or want something a bit more portable, try the Tabletop Art Easel ($39.99). Like it's standing cousin, this one includes chalk- and dry-erase boards. But it's also magnetic and comes with markers, chalk, and magnets. There are two supplies trays, one of which has cup-sized holes to hold paint or brush-washing water. If your young artist is especially prolific, you can also buy a separate supply and accessory kit ($34.99) that works with either easel or on its own. Comes with poster paint, spill-proof paint cups, brushes, jumbo rainbow chalk, a roll of paper, and more. Ages 3 and up.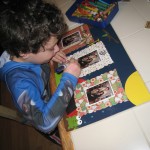 Kiwi Crate is a subscription service that delivers a new art project-in-a-box. Each one is designed around a certain theme (such as science, dinosaurs, gardening, colors, animals, superheroes, etc.) and includes three related project ideas and all the materials you need. Just add inspiration and you're ready to go. There's additional, related material online. Kits are reviewed by experts and tested by kids and cover a range of developmental areas including creating, discovering, communication, gross- and fine-motor skills. $19.95/month. Ages 3-7.
For older kids or those who may want a bit of a challenge, EK Success Crafts (www.eksuccessbrands.com) has kits and individual supplies for scrapbooking, needlecraft, jewelry making, embossing, painting, creating personalized thank-you notes, and more. Perfect for family projects. Prices vary depending on the product.
Paper Punk (www.paperpunk.com) is an interesting combination of origami and building blocks. Start by folding paper into geometric shapes, which you then connect using adhesive dots (included) to create a variety of cool things that are a cross between an art project and a toy. You can buy individual kits for snakes, cars, snowmen, robots, dogs, cats, and birthday cakes, or use your paper blocks to build anything you want. Then customize to your heart's content. $18.95 each. Ages 6 and up.