Over the past few months, we've reviewed a number of excellent tablets aimed at kids. However, since we all know that kids will do anything to get their hands on mom and dads "toys," this week, we take a look at one and a half tablets (you'll see what we mean below) that are aimed at parents but can definitely be used by anyone and everyone.
Lumia 1520
For better or worse, we're old enough to remember when cameras on cellphones were first appearing. Back then, advertisers would go on and on about how great the phone was—call quality, fewer drops, ease of use, and so on. Then, almost as a throwaway, they'd say, "Oh, and by the way, you can take pictures with it too!"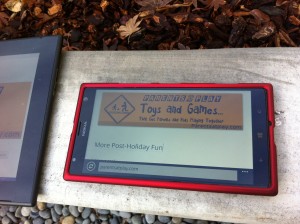 Fast forward to today, where you'd be hard pressed to find a cellphone ad that actually mentions about the phone. It's all about the apps, the web surfing, checking email, and, most importantly, the camera. Take stills, shoot video, zoom, edit, and upload direct to Facebook and YouTube. "Oh, and by the way, you can make phone calls with it too!"
All of that went through our mind when we opened up the sleek Nokia Lumia 1520
The 1520 is Nokia's first foray into "phablets"—part phone, part tablet. At first, we were concerned that the 1520, with its 6-inch screen, would be too cumbersome to handle. No question, it's a lot larger than an iPhone, and it won't fit as neatly into the front pocket of your pants. But after a few days we got completely used to it.
Another thing we had to get used to was the fact that the 1520 runs on Windows (8) instead of the iOS or Android. But again, after a few days we were hooked enough to give up the iPhone.
The 1520 is a beautiful piece of technology. Its size and full HD (1080×1920) display make it possible to read and write email, magazines, books—even if you're in bright sunlight—without going blind. Add in some terrific speakers, and watching movies, TV shows, and playing games is a lot more enjoyable than on a smaller phone. And the 20 megapixel camera, which includes image stabilization, makes taking your own pics and movies a delight.
The 1520 comes with a nice range of software and apps, including MS Office, Nokia Storyteller (for geotagging and organizing photos), and Nokia Music (for putting together artist-based playlists that you can listen to for free). Unfortunately, the Windows App Store has a long way to go to catch up with Apple's and Android's. But with more than 100,000 apps, chances are you can find something close to what you're looking for.
Lumia 2520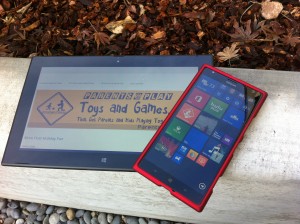 Like its littler cousin, the Lumia 2520 tablet is gorgeous, easily rivaling anything produced by Apple. The 10.1 inch, 1080×1920 display is fantastic, meaning you can actually read, write, watch, play, listen, and create anywhere and everywhere. And the ClearBlack touchscreen is sensitive enough to be used while wearing gloves.
The 2520 comes with front (6.7 megapixel) and rear cameras (2 megapixel), photo and video-editing software, and a micro SD slot which can increase the tablet's memory by 64GB.
Like the 1520, the 2520 runs Windows (in this case, RT 8.1), with all its advantages (it comes with full versions of Office) and disadvantages (a small-but growing app store). It also lets you set up profiles for other users and there's a built-in, password protected kids' corner should you choose to part with your 2520.