The video game world has come a long way since Atari came out with Pong, Asteroids, and Frogger—a really long way. And that's a good  thing. Here are a few of our 21st century favorites.
Nintendo Wii U
Nintendo has a long history of making big leaps in digital home entertainment. Some were great successes, like the Nintendo Entertainment System (NES), Super Nintendo Entertainment System (SNES), and Wii. Others have been just as innovative but never really took off, like the Virtual Boy. But one thing that's consistent across all of their consoles is innovation and quality. We recently found a 28-year old NES, blew the dust off, plugged it in, and it fired right up. Best of all, the games were still fun!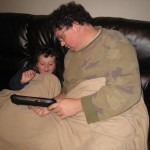 Nintendo's latest leap forward in the video game world is the Wii U, which features sharp textures, clear sound, and characters  who look like they'll hop right out of the screen. Speaking of screens, the Wii U's controller (officially called the GamePad) sports a large touch-screen in addition to all the usual Wii buttons. The system can be used solo, cooperatively, or competitively (we, of course, prefer the latter two options). Parents and kids will have a blast bonding—and the kids will have a great opportunity to improve their hand -eye and direction-following skills.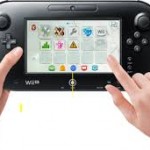 The Wii U comes in two flavors. The basic is white, has 8GB of internal storage, the GamePad, stylus, Sensor Bar, AC adapters for both the game pad and the console, and as an HDMI cable. Retail is $299. For $50 more, the Deluxe includes all that, plus four times the storage (32GB), a charging cradle, and a number of other accessories.   http://www.nintendo.com/wiiu
Nintendo 3DS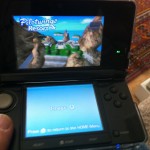 Do you remember all those vacation memories growing up that started with a long car ride? These car rides would drag when we were younger, and would often produce angry parents and uppity children. Fast forward a few decades, and now we have kids. For long car rides, Nintendo's 3DS can't be beat. Sleek and brightly colored, the 3DS has two screens and a stylus. And now, instead of having to carry around a case of cards, you can download a dizzying array of games directly onto your unit through the Nintendo eShop. http://www.nintendo.com/3ds/downloads/
Several great options include HarmoKnight (from Game Freak, developers of Pokemon) , a music/rhythm action adventure game that follows a little boy named Tempo and his friend Tappy the rabbit as they try to vanquish the evil Gargan and the Noizoids who are invading. Although easy to catch on to, each level gets more complex—and more rewarding when you get through it. $14.99.
Dillon's Rolling Western: The Last Ranger is another action-adventure game. Using a stylus, players control Dillon, an armadillo who protects a local village of herders from rock monsters, helping him earn better gear, build better towers, and acquire super rock-bashing skills (and in the real world, it can improve kids' writing and motor skills, perception, and memory.  $10.99.
VTech's  Innotab 2 Baby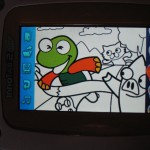 VTech's latest addition to their line of tablets offers a lot of features of a full-fledged tablet, but geared toward kids. Brightly colored and is able to take a beating (a really big beating–without so much as a scratch), it has a touch screen, basic sign language dictionary, protective gel skin, and a grow-with-me library of downloads.  Little kids will love the camera, which allows them to make videos of themselves and others around and then show them off. Great example of an educational toy that will grow with a child. $89.00. http://www.vtechkids.com/