The weather outside is lovely, these days, and we're trying to spend as much time out there as humanly possible. If you're looking to join us, here are some fun options.
Super Spinner (Super Spinner)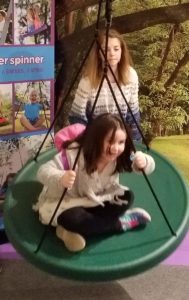 A fun twist on the tire tree swing, the Super Spinner is a "UFO shaped" (according to one 10-year old) disk swing that lets one or more kids (and even a parent) take a ride. Its "adjustable double-braided ropes and weather-resistant clips are designed for a safer, more comfortable ride," according to the manufacturer. Super Spinner can be suspended to swing and spin from trees, play sets, a porch beam or any other secure structural beam that works for your family. There are two sizes of Super Spinner available. The original can accommodate one or two little kids, and can hold up to 200 pounds. It's available in green, blue, red, purple, pink, or yellow. The larger, Super Duper Spinner lets more kids and adults ride, and can hold up to 650 pounds. It's available only in hunter green. $49.99 to $89.99, at stores like Amazon or Target.



Pool Floats (Intex)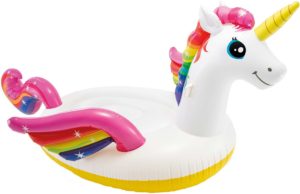 Heading to the pool? Don't forget your sunscreen and a fun float. Intex makes a fantastic assortment of floats your family is sure to love. One of our favorites this year is the Inflatable Mega Unicorn, which is very colorful, very magical, and very durable. And no, it's not just for girls. Turns out that boys love it too (and so do mom and dad). Another new design this year is the Peacock. But previous years' designs are still out there, including Mega Swan, Mega Flamingo, and Mega Duck Island Floats. It's a tough choice, so you may end up with more than one. $29.99. http://www.intexcorp.com


Brooks PureFlow 7 (Brooks Running)
Feeling like running away? You can do it in style with the Brooks PureFlow 7. These sneakers are ready to go right out of the box and don't need any "wearing in" period, which is a rare thing with shoes. They're comfortable with plenty of cushioning and are great for running, long walks (even trails), or the gym. Brooks refers to the fit as "sock like, the stretch-woven upper and soft internal bootie allow your feet to feel comfortable and unrestricted." After wearing them around for a while, it's hard to disagree with that. Available in six colors for women and five for men, so you won't have any trouble finding a pair to match your taste and wardrobe. About $100. https://www.brooksrunning.com


Litewave50 (Seirus)
Although Seirus products are usually associated with winter, their new Litewave50 line is designed to keep your skin safe from the sun's harmful rays in any season. The fabrics are thin, fast-wicking, offer UPF 50 protection, and will help keep you cool even when it's steamy hot out. There are a lot of items to choose from, including the Neck-Up, which covers the vulnerable neck and face areas that are especially susceptible to burning. Litewave50 products come in a variety of colors and prints. Prices vary. https://www.seirus.com


Quick Shade Caster and Floppy Hat (Seirus)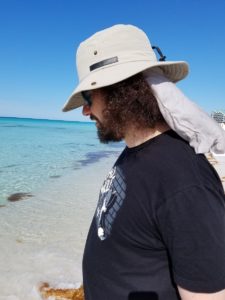 For even more shade, the Quick Shade Caster and Floppy hat are both ideal, especially if you or your loved ones are fair-skinned and burn easily. The Caster not only shelters your face with its broad rim, but also your neck using a bandanna-type covering that stays securely attached to your shirt collar with a built in clip and tether. The Floppy hat shades your face and neck, and is built to maintain its shape all summer long. Machine wash, hang to dry. Measure your head size before ordering. Prices vary. https://www.seirus.com