Looking to spend some time in The Big Apple with the family? Here are some great places to visit while you're there.
LEGOLAND Discovery Center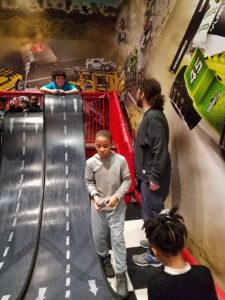 LEGOs are fun for kids (and adults) of all ages, and there's no better place to play with them than the LEGOLAND Discovery Center. The adventure begins with a kiddie version of the history of those little plastic bricks and how they're made. After that, it's time to get physical. The first ride (one that takes you into the main area) is a sit-down guided-laser shooting tour, where you save the castle by defeating tons of baddies. To celebrate your victory, you head into a mini-brick version of New York City and the LEGOLAND area. Push buttons for lights and sounds, and well as mini-animations. The details are pretty amazing, and the spoofs will keep everyone giggling. Fans will find quite a few "Easter eggs" as they walk around the town. There's also a magic couch ride where you jaunt around on a flying couch. Really.  You move it up and down by pedaling, and it goes around in a circle.