Because playing with your kids—no matter how old they are—is a blast, here are some great ways to start your 2017 off with well, a blast.
Laser X Two Player Laser Gaming Set (NSI International, Inc.)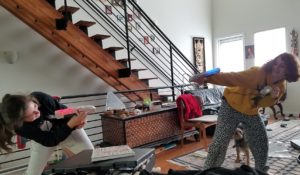 There are a lot of words to describe Laser X, but to keep the list short, we'll limit ourselves to "Wow!" "Amazing!" "Cool!" "Whooo—hooo!" and, most importantly, "Let's do it again!" Get the point? We reviewed the two-player set, which, if you're a laser newbie, is the only way to go. Playing against someone else is infinitely more fun than playing by yourself. This set comes with two laser blasters, two vests, an interactive "coach" who tells you to get down and lets you know when you're running low on ammo, cool sound effects, and hours of fun. It's great for outdoor or indoor play, and since the vests and blasters glow, it's especially fun at night. It's also compatible with other Laser X equipment so you can field teams. Each vest allows you to select Red Team, Blue Team, or to go rogue and blast everyone. Ages 6-16. $24.99 for a single blaster and vest and $49.99 for a double set at major retailers or at www.GetLaserX.com.