If you have daughters, nieces, or, gasp, sons or nephews who like playing with dolls (and no, there's nothing wrong with boys who play with dolls), then there's a very good chance that you have dolls on the brain. And the floor, the furniture, your car, and everywhere else. While the choices in dolls may seem as endless as that hour between dinner and bedtime, there are some fun, new twists on the basic baby doll that have recently come out, and your little doll is sure to love 'em.
Peek a Boo Dolly (Gund)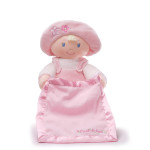 This cute doll is great for the youngest children. She engages them in games and actually talks to them. Peek a Boo Dolly pulls her pink blanket up over her eyes and asks, "Where did you go?" and then, a few seconds later, lowers the blanket and announces, "Peek a boo, I found you!" She says six different phrases and plays for roughly 40 seconds at a time when her button is pressed. Dolly is soft and snuggly, and kids will love to hold her. With a sweet smile on her face and fleecy clothes, she looks happy, plush, and has no small parts to choke on or come loose. She needs 3 AAA batteries, which are included. Dolly's cousin is a brown Peek a Boo Bear, who comes with a cream colored blanket. Each retails for $40 at your favorite gift- or toy store, as well as at http://shop.gund.com
PlayTime Baby Love Ewe (Adora)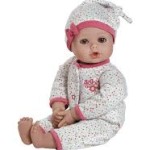 This doll is so sweet, and would make a great Easter or spring friend for your precious little one. Dressed in a little lamb-covered one-piece outfit and pink headband, she is truly adorable and kids will gravitate to her. She comes with her own bottle, her eyes open and close when you move her, and she can suck her own thumb. The best part about this baby, though, is that she's completely machine washable. You read that right! When she gets dirty, as your kid's favorite toy is bound to, just toss her in the wash on gentle and hang her on the line to dry. Can't get any easier than that. These doll are handmade and have a light baby powder scent, and you and your child will appreciate the life-like features of this toy, from her little fingernails to her turned up toes. Their "skin" is made of special "Gentle Touch™ vinyl" that makes them soft and cuddly as well. Available for $35 on http://www.adoradolls.com
Cozy Cutie Drink 'n Wet Doll (Kidoozie)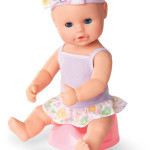 Cozy will make your child giggle and keep her (or him) busy for hours. Give the baby her bottle and she needs to run (or be carried) to the bathroom right away! Just put her on her included potty and she'll wet. This is a great way to get kids interested in potty training, and to encourage them to go themselves ("Hey, Cozy Cutie's doing it, wouldn't you like to give it a try too?" Or, "Who can get to the toilet quicker—you or Cozy?" Whatever works, right?) In addition, kids love all things bathroom related, as we all know quite well, so you might get a few moments of peace and quiet as your child gives the bottle and gets baby to the potty over and over (and over and over) again. The Drink 'n Wet doll retails for around $20 from http://international-playthings.shptron.com and comes with a removable two-piece outfit, headband, bottle, and potty seat. Drink up!