Unlike other chores, helping out in the kitchen is something most kids really enjoy. Helping them get a good, basic knowledge of cooking, kitchen skills, and know-how, is a something that will definitely help them later in life. It can be messy, but the cleanup by wiping the counters and using a steam mop (these are essential to maintain the cleanliness of your floors – you can read steam mop reviews here!) teaches your children the responsibility of cleaning up their mess. In the short-term, it's a great way to create some lifelong memories-and some pretty tasty meals. And the look of pride on your child's face when their dish is served will be priceless. If you're looking for some inspiration on what to cook, you could always check out blogs like St. Ambrose for some kid-friendly recipe inspiration and decide together what you're going to make. Cooking with kids can be incredibly fun and rewarding, however, it only takes a moment for something to go wrong and for an appliance to be broken, luckily this is where your home warranty comes into play. You can check over here to see about various policies if you haven't got one already.
It really doesn't matter if you're not the best cook in the world, as the emphasis on cooking with kids is FUN! But it's understandable that you still want to be making something edible at the end of it all. If you are one of the many people in the U.S. who want to improve their cooking skills, you could take a look at the CocuSocial website to find a cooking class near to you. This is a great way of becoming a better cook and making amazing food. And you'll then be able to pass that knowledge onto your kids!
Let's start with the basics: pots and pans. Two of our favorites are the Green Pan and Twiztt collections. Both are eco-friendly, non-toxic, and are still easy on the wallet while not sacrificing quality.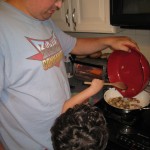 Voted "Best in Europe," the Green Pan can help you and your family maintain a healthy, sustainable lifestyle. However, this is not a traditional non-stick pan, Its non-stick Thermolon ceramic coating helps the food slide off easily, and is heat resistant, which means that if you overheat the pan (even up to 450C or 850F), it won't blister or peel or release any toxic fumes or add any unwanted chemicals to your food. But be sure to follow the directions carefully. The Green Pan does require some special handling. Available at http://www.green-pan.us or at your local Target or kitchen store.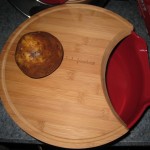 Twiztt, designed by Joan Lunden, is simple, safe, and affordable. Like the Green Pan, Twiztt uses Thermolon ceramic non-stick coating, which makes cooking-and cleanup-a breeze. Each Twiztt kit comes with everything you need to make a meal (except the actual food). For example, The "Cook, Cut, and Serve" set includes a melamine bowl with a stainless steel lid and an adjustable steam release knob, which lets you mix, heat, and serve in the same container. It also comes with an easy-to-clean, sustainable chopping board that fits on the bowl, eliminating the need to transfer chopped food from cutting board to another container before mixing. Everything but the cutting board is dishwasher safe. Available at http://www.twiztt.com or your local Bed, Bath & Beyond.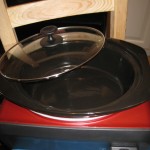 Crock-Pots are a great way to cook, and no home should be without one. On those crazy busy days when you know you won't have time (or energy) at the end of the day to spend making dinner, toss all the ingredients you'll walk in the door to a home-cooked meal. The new Crock-Pot Hook Up Connectable Entertaining System allows you to connect as many as six cooking units together, which is great if you have a large family or you entertain a lot. For more intimate gatherings, just use one. The units come in several sizes and are sold individually or as a kit. They're attractive, easy to stack and store, and the removable stoneware and lids are dishwasher safe. Available at http://www.crock-pot.com or your favorite retailer.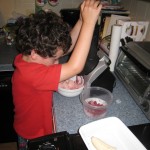 No food experience would be complete without dessert. And Yonanas makes creating health after-dinner treats fun. This blender-sized kitchen emulsifies frozen fruit into a creamy dessert that looks, tastes, and feels like soft-serve ice cream. You keep the vitamins and fiber and skip all the fat (okay, if you really want to, you can add chocolate and nuts). Plus, the flavors you make are completely up to you. Yonanas is easy to take apart and clean, and none of the dangerous parts get anywhere near those little helping hands. Dishwasher save, Yonanas is available at http://www.yonanas.com/.