Looking for the perfect gift for your kids and spouse this Valentine's Day? We've put together a little list to make your shopping that much easier. Check out some of our picks, and see what strikes your fancy.
Love-a-Saurus Techno Plush (Hallmark)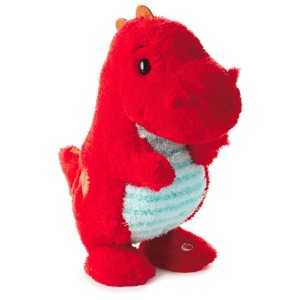 Push his button, and this bright red cutie roars, dances, and breaks it down to MC Hammer's "U Can't Touch This." The young 'uns will groove while ma and pa wax nostalgic. It's $33, or $18 when you buy three Hallmark cards. You can also find an assortment of adorable itty bittys—sweet toys that fit in the palm of your hand, including the new Thing 1 and Thing 2 (your favorite troublemakers from Dr. Seuss' Cat in the Hat). They're available for $7 each. You can pick up these items or any of Hallmark's classic cards at www.hallmark.com  and Hallmark Gold Crown stores.
Customizable Valentine's Jewelry (Origami Owl)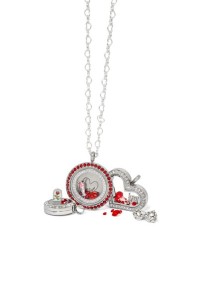 For tweens, teens, spouses, and other ladies in your life, we love the lovely gifts from Oragami Owl. Not only is the jewelry beautiful, but you can customize it for the one you love. Choose the color, size, shape, the charms that go inside and/or outside, the length and type of chain used, and all the other details. You can even add Swarovski crystals for a bit more color and sparkle. Origami Owl lets you pick out items that highlight special memories about your Valentine, and will be a truly cherished reminder of the special bond you two share. Choose from necklaces, bracelets, wrap bracelets (a hot trend right now), lockets, and more. Prices vary. Visit www.OrigamiOwl.com
Nail Polish (Duri)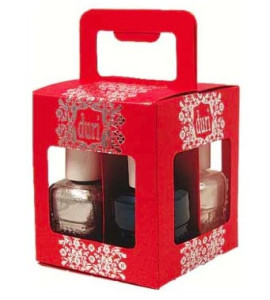 Another option for the girls and women in your life is Duri's environmentally-friendly, non-toxic nail polish collection, that's free from DBP, formaldehyde, and other nasty stuff. You can buy individual bottles or a cute Valentine's Day set of four. While there are more than 250 shades of Duri, the Valentine's Day collection includes "every-day-is-Valentine's-Day" red, "cupid-rules" pink, pastel "iced roses," "unexpected kiss" (a light purple-pink), and "sweetheart." (a bright orangey-red) A great gift anyone—male or female—who loves a mani-pedi. Singles are $6 each; the gift is $24 at www.duri.com
iPhone Heart Charging Cable (ThinkGeek)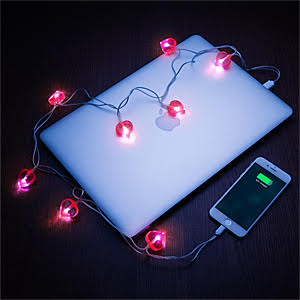 For the nerdy love in your life, ThinkGeek has a few fun options that are perfect for those with a taste for tech, comic books, sci-fi, and, of course, Star Wars. For a fun twist on classic Valentine's Day gifts, we love the charging cable for the iPhone 5/6 (it also works with your iPad). The 46" cable has eight tiny, plastic LED red hearts that light up when it's plugged in and charging. For just $14.99, you can show how strong and bright your love is, and that it's endlessly renewable.
Star Wars Bouquet (ThinkGeek)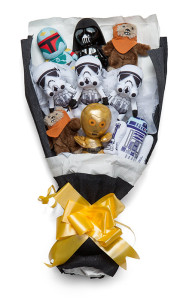 Tired of giving people the same old, same old floral arrangements? Wouldn't they rather get a bouquet of long-stemmed Star Wars characters? These arrangements come in three styles: The "Assortment" (Boba Fett, Darth Vader, C-3PO, R2-D2, two Ewoks, and three Stormtroopers), the "Darth Vader" (Darth Vader and eight Stormtroopers), and the "Droid" (three each of R2-D2, R2-Q5, and R2-D9). These clever gifts are sure to be a conversation piece, and something that'll make all the other geeks jealous. Who has the best spouse? Yeah, you know it. Bouquets are $60 each at http://www.thinkgeek.com/gifts/.