In a recent article on wired.com, Kevin Feige-the man behind just about every Marvel comics movie released over the past decade-says that Marvel has movies planned out until 2021. If you're a kid (or someone who still loves comic book characters and adventure movies), that's great news and you might want to look at some of your favorite superhero capes before the films arrive! If you're a parent, that might be less-than-great news because every one of those movies will spawn a series of related toys and games, that means… more money spent on toys! Have no fear though, you can check out websites like https://www.raise.com/coupons/walmart and save money with their coupons and discount codes on those coveted toys. Here are just a few of them.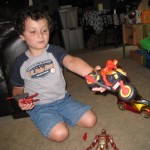 Iron Man Action Cycle (Playhut)
Iron Man and his alter ego (big, big ego), Tony Stark, is one cool dude-especially when he's in motion. And that's exactly where the Iron Man Action Cycle puts him. Given how high-tech Iron Man is, this toy is remarkably low-tech-not even a battery. Kids stomp or punch an air bladder which propels Iron Man across the room. Best on hard, flat surfaces-carpet will just slow him down. Since it requires stomping and punching, a little parental supervision is advised to ensure that no one's toes or fingers get smashed. There are also Captain America, Spider Man, and other superhero Action Cycles. All are $19.99. Available at playhut.com and toysrus.com.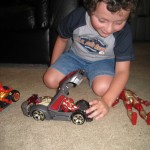 Marvel Iron Man 3 Avengers Initiative Assemblers Battle Vehicle (Hasbro)
This cool toy includes Iron Man himself and a race car, which converts to power-enhanced exo-armor when Iron Man needs a little extra protection. The car also has the ability to launch Iron Man into the battle with a simple push on the spoiler. $19.99. Hasbro.com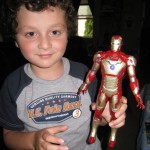 Marvel Iron Man 3 Avengers Initiative Arc Strike Iron Man Figure (Hasbro)
Sporting a lot of interactive features, this large Iron Man's hands, chest, and eyes light up with a blue electronic glow. When "powering up" the lights glow brighter and you get that cool powering-up sound. And when firing, the lights pulse. While not as poseable as some might like, the lights and other effects will engage most kids. $19.99. Hasbro.com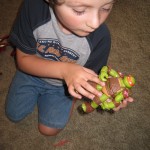 Teenage Mutant Ninja Turtles Flingers (Playmates Toys)
And now onto those heroes-in-a-half-shell. The Ninja Turtles are back with a new line called Flingers. Each Ninja (sold separately) has a built-in mechanism that allows him to throw things at the evil Foot Clan. Leonardo has 10 sewer lids, Raphael 4 sais, Donatello 3 bo's, and Michelangelo has 10 pizzas. The figures themselves are dressed in some pretty funky (in a good way) junkyard armor. The flinging mechanism works well, but performs best on a hard surface and in the weapons need to be fired off in a certain order, especially with Raphael. But done correctly, it's fun to see each Turtle grab his weapon and throw it. $12.99 each. Playmatestoys.com.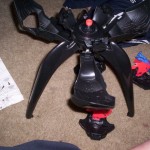 Man of Steel Quick Shots Battle for Metropolis Play Set (Mattel)
In case you haven't seen it, Man of Steel is a re-imagining of Superman with a darker, mysterious, and more-alien feel to it. But it's still epic and no matter where he is, Superman is always fun. What's not to like about a guy who's strong, can fly, always does the right thing, and is pretty good looking to boot? With the release of the new movie-and with plenty of sequels sure to follow-there's going to be a plethora of new toys. Mattel's Quick Shots line revives a low-tech-yet-effective mode of superhero transportation: Make a V with your fingers, pull back on the stretchy figure's body, release, and let him soar around your living room. Quick Shots come in single flinger packs as well as in larger play sets like Battle for Metropolis. $30.99 for the set. Mattel.com