There's something almost primal about building robots. Maybe it's the chance to create something that moves (and doesn't need its diaper changed). Or maybe it's the challenge of building something that will make our life easier. Whatever the reason, building—and playing with—robots is a wonderful way to spend time with your kids and to build a strong relationship. Here are some of our favorites.
Kamigami (Dash Robotics)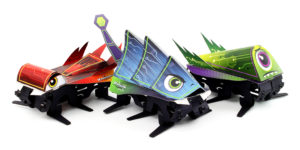 Kamigami are app-controlled robots you build and program. Start with putting together the robot's body by folding a flat sheet of thin cardboard (hence the "-igami" in the name, as in origami). The robot's insides snap together without tools. Kamigami look like giant Hexbugs and once they're built, you control them with a free app. They play nicely with others and they're practically indestructible. Race them, play laser tag, or just have them run around and smack into things. We especially loved that there's zero intimidation factor: lots of other programmable robots can be overwhelming, but you don't need to be a techie or a coding expert to get your Kamigami up and running. Ages 6+. $99. www.kamigamirobots.com
Circuit Scribe Maker Kit (ElectronInks)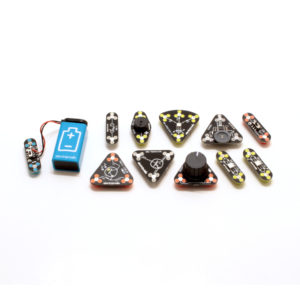 Circuit boards are at the heart of just about everything in our life. But they're incredibly tiny, which means it's nearly impossible to see all the connections and how they're made. Circuit Scribe changes all that by allowing you to physically draw your own circuits. The Maker Kit comes with 11 magnetic circuit board modules, a battery, and a handful of small components. But what makes this kit especially unique is the special ball-point-type pen that draws with highly conductive (non-toxic) silver ink, which allows you to draw circuits on just about anything. You can build simple switches that turn a light on and off, as well as more complex ones that involve touch sensors, timers, and more. But whatever you're building, you'll have a blast. Ages 8+. Under $80. http://www.electroninks.com/
Dash (Make Wonder)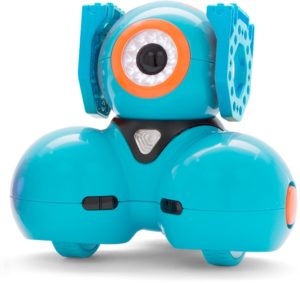 Dash brings the wonderful world of robotics to the kindergarten set. Dash is different than many other robots in that you aren't actually building him—he's ready to roll (and talk) right out of the box (after you charge him, of course). What makes this little guy so appealing to kids (and adults) is that you use an iOS or Android device to control him. The simplest app allows you to move Dash's head, turn lights on and off, move him around the room, and a bit more. The apps get increasingly more complex, even allowing for drag-and-drop programming (using the app, you string together commands: go forward, turn left, flash your eyes, turn right, dance when I clap, etc.) to create surprisingly sophisticated routines that are beyond the capabilities of little ones, but will keep kids as old as 12 fully engaged. Ages 5-12. Under $150. https://www.makewonder.com/
Vex Robotic Arm (Hexbug)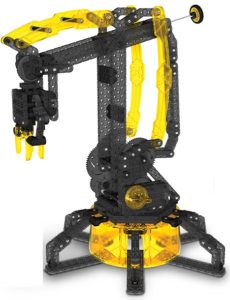 The first thing to know about this robotic arm from Hexbug (makers of those adorable, frenetic mechanical insects) is that it's not a true robot in the "it-moves-all-by-itself" sense. Second, with more than 50 pieces, building it is going to take some time. But none of that detracts in any way from the product; if you want to automate your arm, you can buy a motor kit separately, and you and your child(ren) will have an absolutely amazing time working together to build your arm. Once it's done, you'll have and even more amazing time using it (mechanically or motorized) to pick stuff up and move it around. It comes with easy-to-follow instructions for the arm, a scorpion, and a helicopter. Ages 8+. Under $50. http://www.hexbugvex.com/robotic_arm.html.