Longing for a break, but don't have the time to take a week off right now? Here's a way to travel to distant lands—and even go back in time—and it's all within a short drive of your home.
We recently visited the New York Renaissance Faire (check out www.renfaire.com/Sites to find the one in your area), which is a fun way to spend the day with family and friends and shake up your routine.
Take a step back in time (about 400 years or so—think Shakespeare) and get into the spirit by dressing up in period costume. Don't have one? No problem. There are plenty of onsite vendors where you can buy clothing, headgear, fantasy pieces, and anything else you need to become a knight, princess, squire, fairy, unicorn, minotaur, or whatever your imagination can come up with.
Yes, you can try on before you buy, and better still, the friendly—and usually very funny—vendors will help you get properly fitted and teach you how to get into things you might not know how to wear. Lacing up a floor-length dress is not exactly pulling on a pair of sweatpants. So be prepared to have a good time shopping. Yes, guys too.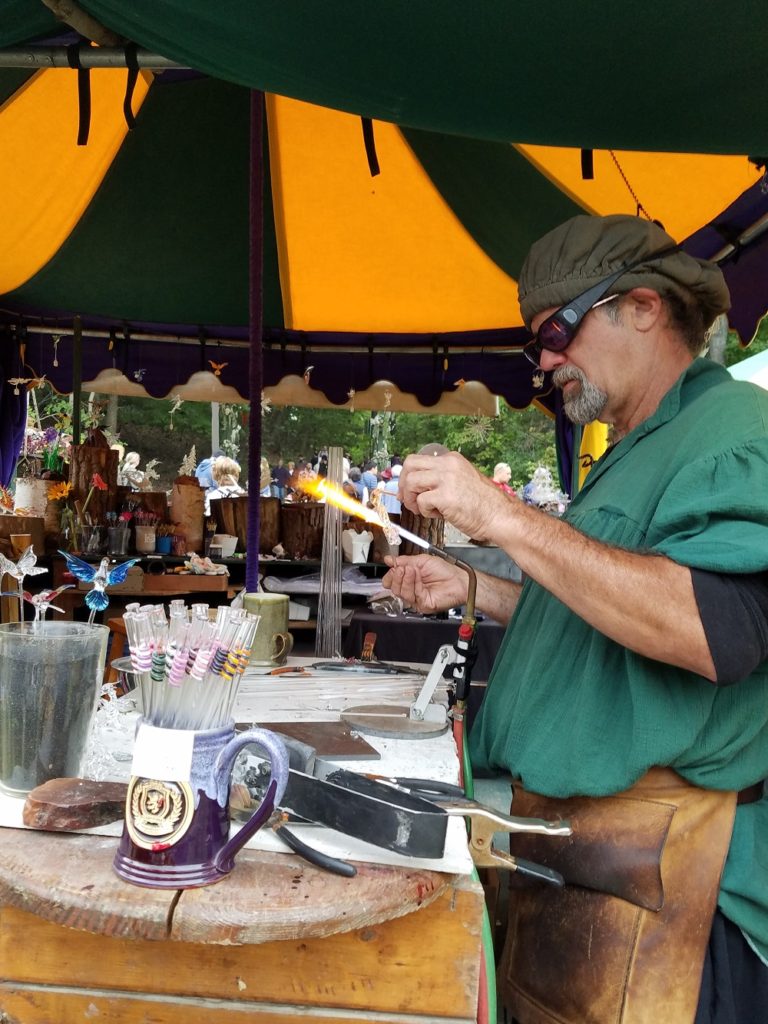 Of course, there's a lot more than clothing at the Faire, including jewelry, shiny baubles, (honestly, what's a Faire without crowns?), toys, swords, shields, and if you're really into the whole knight thing, chain mail and armor. There are also home decorations, spices, and a live glassblower. The kids loved watching him create, and honestly, so did the adults.
As for food, there's no shortage of options, including the famous giant turkey leg and massive pickles, which you really must try, even if pickles really aren't your thing. And let's not forget the Village Bakery, which offers freshly made cakes, pastries, cheesecake, fudge, muffins, sweet and savory rolls, and even some delicious treats for those watching their corsets.
If you're a regular Renaissance Fair visitor, you'll notice some new additions this year. First, piggy-backing on the popularity of the TV hit show "Game of Thrones," is the "Gallery of Thrones" photo area, which is filled with beautiful, handcrafted thrones that you and your family can pose on (the pics will make fun holiday cards later). Just relax and enjoy.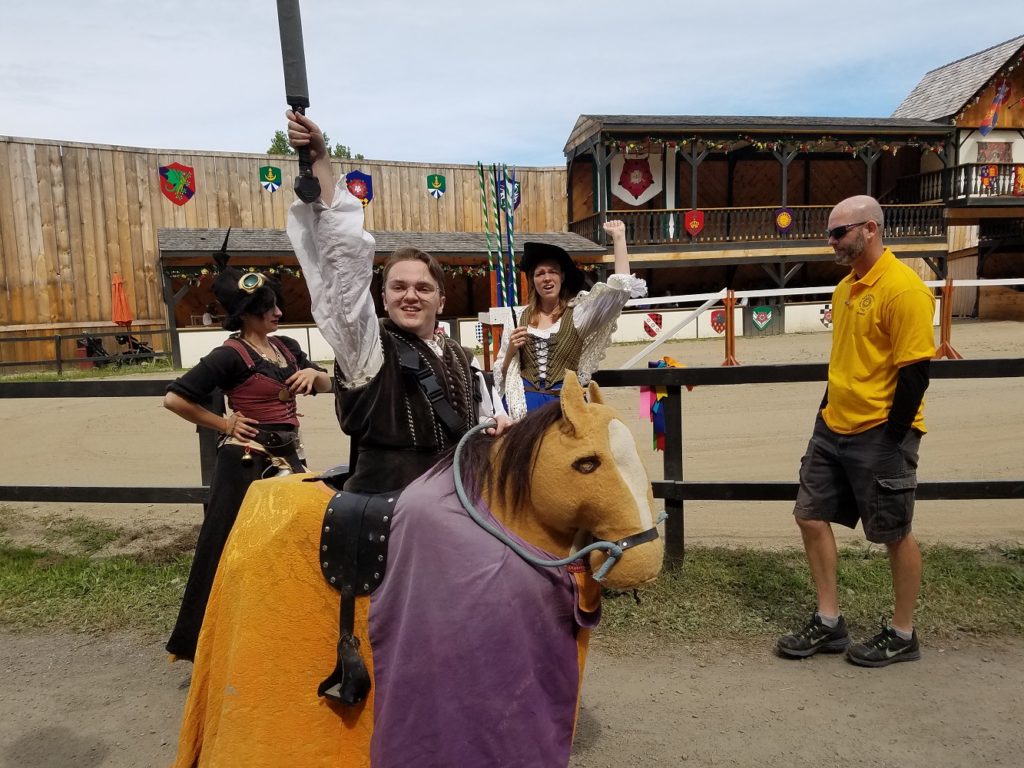 The Jousters have been a must-see staple of the Faire for years, and give show spectators a modern twist on an old sport. Male and female knights armor up and joust three times a day, so make sure you see at least one show.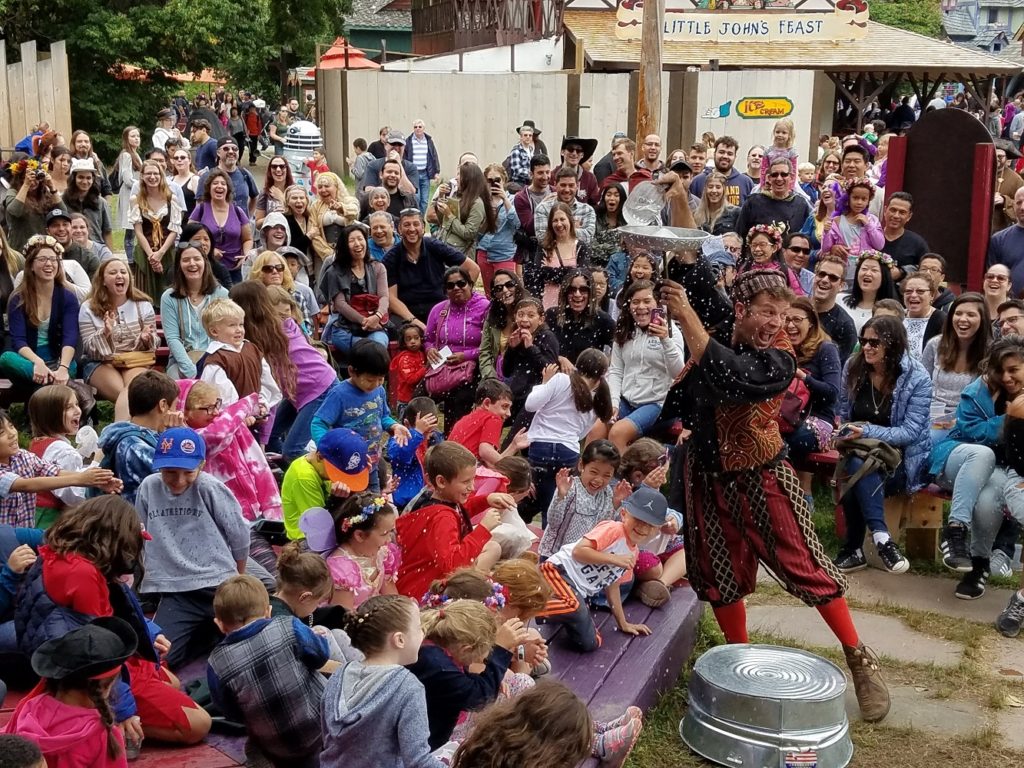 While jousting was fun, our favorite event was actually the Fire Circus, which was so good it could have been a stand-alone show on the outside. Artist Geoff Marsh juggles with and without fire, water, and more, and includes kids chosen from the audience. He's also hilarious, and keeps everyone rolling with laughter from start to finish. Check show times as soon as you arrive at the Faire and make sure you arrange your schedule around this show.
There are also special "theme weekends," such as Pirate, Celtic, or Time Travelers, where some Faire goers will dress accordingly, and shows will reflect the theme.
Tickets are around $25 for adults, $12 for children five and up (under that are free). General parking is also free, which is a real rarity these days. Again, to find the Faire nearest you, visit renfair.com/Sites