If you love to travel as much as we do, you'll love these bags. They're good for overnights and weekends at Grandma's, and just as useful for longer trips.
National Geographic luggage line (Eagle Creek)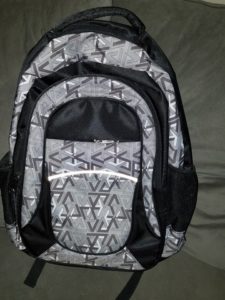 As you might guess from the name, this line is extremely durable, with a weatherproof tarpaulin outer that makes the pack easy to wipe clean. That's great for everyone, but especially if you have kids, since just about everything they drag around manages to get filthy. Another nice feature is the zippers, which are water resistant and self-repairing (!). There's also a large lockable laptop compartment as well as zippered mesh pockets and key fob. You can separate your dirty or wet items from clean/dry ones and there's even a hidden space for your passport, wallet, phone, or anything else you want to keep close and safe.  Designed to be secure, it has compression straps, internal gear attachment, D rings, and it comes with an emergency whistle and reflective spots to help keep you visible at night. Prices and features vary. Visit https://www.eaglecreek.com/national-geographic for more info.



Wayfinder Waist Packs (Eagle Creek)
We've used this pack pretty much nonstop and it's been wonderful. It comes in two sizes (small and medium), and it's great for those who want to go hands- or shoulder-free. Whether you're biking, climbing, kayaking, or whatever, if you have only a few things to take with you, the Wayfinder is perfect. There are lots of compartments and zippers for organization, and it's water resistant (fun fact: the water-resistant coating is made from recycling the PVB coating in windshields. Really). That coating also makes these packs stain resistant, which any parent or traveler will love. $30-$40 at https://www.eaglecreek.com


Pack-It Organizers (Eagle Creek)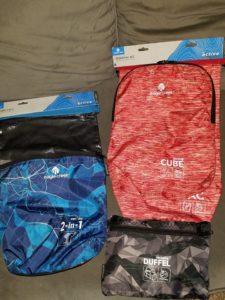 These are great for keeping organized and efficient and make traveling so much easier. The Pack-It Active lets you organize all your gear so it takes up less space, and features antimicrobial treatment to keep the stink away from the rest of your luggage. Plus, it's washable. The Pack-It Original holds its shape very well, regardless of what you have inside it. And it keeps things organized in your suitcase or in your hotel room drawer. https://www.eaglecreek.com


Packables (Eagle Creek)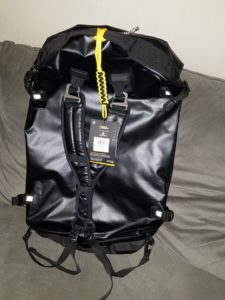 These clever items are designed to be easily packed into your luggage. Wait, what? Why pack luggage into your luggage? Because sometimes you run out of space. It's harder to pack laundry, or maybe you just bought too much stuff on your trip and you don't want to buy a new suitcase or pay for a checked bag. Packables come in Daypack, Duffel, and Tote/Pack. Prices and colors vary, but all are under $40 at https://shop.eaglecreek.com


Gym Bag (Go Dash Dot)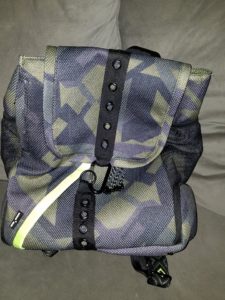 Go Dash Dot is a great "go-to" bag for women on the move. With several bags and lots of colors and sizes to choose from, it's a fantastic gym bag, weekender, or work-to-weeknight bag. It can even function as a diaper bag. Sturdy, though heavy, it comes in tote, backpack, crossbody, and more. Some have spaces for your yoga mat, sneakers (for an easy change), carabiners, and more. There's plenty of space inside, and multiple compartments to separate your items. Keep work separate from play, night life, or whatever suits you. Prices vary. Visit https://godashdot.com for more.