What do Advent Calendars, Star Wars, and TusmTsum have in common? Not much—except that they make great gifts this holiday season.
Playmobil Advent Calendar (#6624) and Playmobil NHL Advent Calendar (#9017)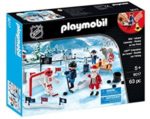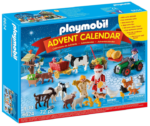 We're already a week into Advent—have you bought an Advent Calendar for your child yet? If not, Playmobil has two adorable options. For children who love animals, the adorable farm-themed set #6624 is perfect (Playmobil refers to their sets by number and it's sometimes easier to find them that way). Every day, as you count down to Christmas, your child can punch out a numbered door and find a fun surprise, such as a kitty, cow, goat, or a tractor. Whether you're country born, or just have a country soul, #6624 is sure to please. About $25 at Toys R Us and Amazon. For sporty kids, the NHL Hockey set #9017 will score big. Once all the pieces are revealed, your hockey fan will have it all: hockey figures, child figures, flags, goal, Stanley Cup, puck bag, reindeer, and a Santa referee (who better to break up disagreements?) Around $27 at major retailers. www.playmobil.us
 
Hockey Arena (Playmobil)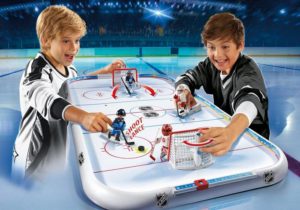 For even more hockey fun, this set is full of interactive fun and has a movable goalie. Just as in real games, kids use the players' sticks to block or to hit the puck into the goal. Use the joystick to slide the goalie back and forth to protect the goal. You can customize your team and rink with any NHL team stickers (included). About $59.99 at retailers everywhere. www.playmobil.us
Star Wars Carbon Freezing Chamber Set (LEGO)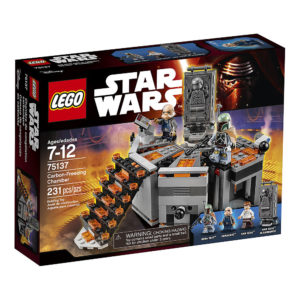 This cool LEGO set is not only one of our favorites, but it also made the KMart Fab15 Toy List, and it's sure to be a hit for Star Wars fans of all ages. Go on a quest to rescue Han Solo from Boba Fett. Besides the Carbon Freezing center itself (which includes a moving elevator, detailed control center, and all freezing functions), this set comes with minifigs of Boba Fett, Han Solo, and an Ugnaught native. Warning: It freezes only LEGOs, so your children are safe. $25 at Kmart; prices vary elsewhere. www.lego.com
Star Wars Big Figs (Jakks Pacific)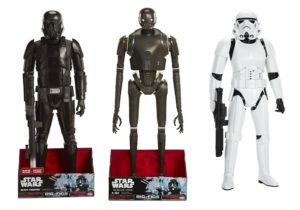 What's better than Star Wars figures? Really, really big Star Wars figures. And these figs from Jakks Pacific of all your Star Wars faves are definitely that. The "Big Figs" are 18"-19″, the "Massive" figs, roughly 31″, and the "Colossals" are 48″ (which might be bigger than your child). Choose from Storm Troopers to the man in black himself, Darth Vader, and everyone in between. They have articulated joints, so they're not just statue-like and hanging out. If they aren't already there, these big figs will definitely be showing up on any Star Wars fan's holiday wish list. Price range from $20 to $99, depending on the character and the size. www.jakks.com
Disney TsumTsum Series One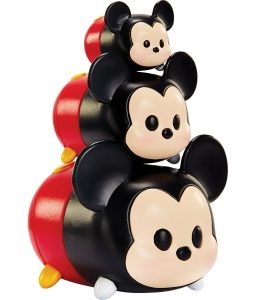 From the very big, to the very small… Have you heard of TsumTsum? This Japanese craze has just hit American shores, and kids are flipping out for these adorable animals. TsumTsum in English is "stack stack," which is a fitting name, since that's exactly what you do with them. The Disney Tsum Tsum Series One is the perfect starter pack, and comes with three each of the small, medium (one of which is a "mystery character"), and large Disney-themed TsumTsum. There's also a collector's guide. $16.99 at www.kmart.com or in stores; prices vary at other retailers.