There is a lot to do in New York with the kids this summer, no matter what your interests are. From waterparks to Broadway shows, indoor or outdoor activities, you'll never hear the phrase "I'm bored" in the Empire State which is why you can expect a lot of guests at many of the Historic Hotels in New York.
Splish Splash Waterpark (Calverton, NY)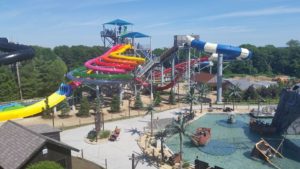 When it's hot, but you still want to be outdoors, waterparks should be high on your to-do list, and this is one of the best in the area. There are lots of options for kids of all ages, and the bigger the kid, the more places they can play (but if they're too big, they can't play in the small kid areas, so that the little ones don't have to worry about being trampled). Mutiny Bay puts your family in brightly colored boats, letting riders use water-spray "cannons" to blast other boats, while those outside the ride can blast those inside the boats-and get sprayed themselves. Abyss Tube Slides were a big favorite, as was Bootleggers run, which holds up to four at a time in a tandem raft and uses hydromagnetic technology to take those rafts uphill, like a rollercoaster without rails. When it's time to relax, there are plenty of wave pools and "lazy rivers." Visit https://www.splishsplash.com/ soon, as summer will be over before you know it.
Coney Island (Brooklyn, NY)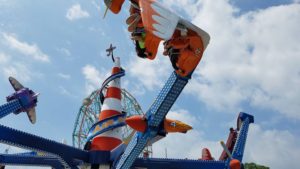 Coney Island is a go-to spot for locals and tourists alike, and is a great place to beat the summer heat, or at least lean into it somewhat gracefully. Coney Island has been around for generations, always changing, adding more rides to remain new and fresh, yet always appealing to the nostalgia of days past. Just steps from the boardwalk, there's a beach with a clean shore and big open ocean. For adventurous types, there are seven big thrill rides at Luna Park, including the classic wooden Coney Island Cyclone and the newly opened Cozmo Jet (which uses virtual reality to let you blast aliens while you're riding) and Coney Clipper (a classic "pirate ship," swing-back-and-forth ride), so even if you've been before, you've got the perfect excuse to go again. For littler riders, there are tons of attractions, like the Happy Swing and Magic Bikes. Visit https://lunaparknyc.com/ or the park itself to get tickets.
Theater in The Big Apple
Going to the theater may be the most iconic New York experience of all. But with tickets often going for more than $200, it's out of reach for many families. Fortunately, there are ways to get that Broadway experience without breaking the bank. Broadway Inbound and The Broadway Collection both allow you to choose shows that you and your family want to see, at price you can afford to pay. And no, we're not talking about second-rate shows. Whether you're planning a romantic couple's night out, an outing for you and the kids, or a fun activity for your softball team or some other large group, you'll find a good selection of discounted tickets to shows that you actually want to see, including Wicked, The Book of Mormon, Anastasia, and many more. As big believers in the importance of exposing the kids to art and music, hitting a Broadway (or off-Broadway) show is a truly magical experience that can't be replicated anywhere else on earth. So what are you waiting for? Visit https://www.broadwayinbound.com/ and https://www.broadwaycollection.com/ for more info and to buy tickets.