As you head out into the blustery, winter-y weather that has already descended on many of us, you'll want to make sure the kids are well equipped to handle everything that mother nature dishes out. Here are some of our favorites for your snow days.
Boy's Dedicate Jacket (Dare 2b)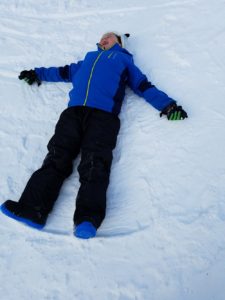 One of the most important winter wear items is a durable, water-resistant coat, and this one is great for both daily wear and serious outdoor play. It not only wears well, but has all sorts of features that your kids (and you) will love, including a waterproof outer layer, a hood that detaches (but doesn't fall off), and elastic trim for easy adjusting. It also has internal mesh pockets, all of which zip (which should reduce the number of gloves that get lost), and bight, reflective details, making spotting your child on the trails or during snowball fights even easier. For girls, there's the Entrust Jacket—same coat, different name Both are about $140 at http://www.dare2b.com. Infant snuggler suits (one-piece coats for babies) are also available for about $50 each.
Jr Rascal Gloves (Seirus)
It's hard to play outside for very long with cold, wet hands, right? These cool gloves come in fun options like skeleton, zombie, and digi (think video game/Minecraft looking), and feel as good as they look. Kids will like them because they're fun, and you'll like them because they're functional and do their job well. They're windproof, water resistant, and have Heatlock insulation to keep little hands warm. They also feature a gauntlet cuff that cinches easily to help keep ice and snow from getting inside. We especially love the SureGrip on the palms and fingers that makes it easier to maintain a grip on whatever you're trying to keep in your hands. About $30 at http://www.seirus.com
Icebug Myoko BUGweb GTX (Icebug)
If there's any snow trekking in your future, you'll love these kids' boot (and yes, the company also makes shoes and boots for adults). These boots are cut slightly higher than the ankle, are comfortable to wear, and have plenty of fleece insulation to keep your feet warm. (which means no complaints about sore or cold feet). And the GORE-TEX outer shell will keep your child's feet dry. They're also easy to put on and take off, and parent who've had wars with snow boots will appreciate the double Velcro that kids can adjust themselves. $169.95 at http://icebug.com/us
Hi-Tec Socks (Hi-Tec)
Most people forget about socks until it's too late, but in winter, you won't want to put on your boots with out a pair that's warm, comfortable, and high. Yes, high—at least mid calf—because there's nothing more annoying then a sock that slides down under your foot while you're walking about. Hi-Tec makes socks for men and women, and we've worn them on a multitude of activities and climates and have been very happy with them. They're soft, they stay where you want them to, have plenty of cushioning, and a reinforced heel and toe. They also have arch support and compression, which is pretty advanced stuff for a sock. Retail price is $15 – $20, which might seem like a lot for socks, but they do flex an awful lot of muscle, and you'll be surprised at how much happier your feet are when they're warmer for longer and when you don't have to deal with all of that annoying, under-the-heel nonsense that often happens when wearing boots. http://us.hi-tec.com/accessories.html