Looking for some good, old-fashioned toys to play with that don't claim to build STEM skills, expand your brain, or anything else? If so, you'll want to check out these new items that offer, gasp, nothing but fun. And that's just fine.
Hamsters in a House (ZURU)
This might bring to mind another toy craze from a few years ago, (Zhu Zhu Pets) and we admit there are some similarities. These little hamsters are small (though not so small that your kids can swallow them), soft, and furry. They buzz and scoot around any smooth, flat surface as well as in their own little "ecosystems." There are several playset houses, such as the luxurious "Ultimate Hamster House," which has a bed, a slide, and even a toilet that makes flushing sounds—a sure-fire hit for kids who love potty humor (and who doesn't?). Put the hamsters on any of the hotspots, and they'll say one of 16 phrases. You can expand your hamster's ecosystem by adding hamsters and accessory packs (sold separately), which include styling studios, cars, and run extensions (think train tracks for hamsters). Ages 4 and up. Prices vary. Available exclusively at http://www.toysrus.com/.  More at http://hamstersinahouse.com/
Micro Boats Shark Attack Challenge (Zuru)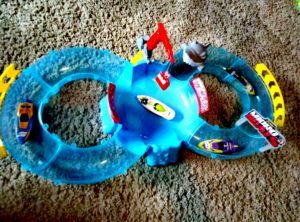 These self-steering, motorized speed boats are great fun in the summer (and any other time of the year). They're water activated, meaning that they fire up when wet and shut down when dry. With the Shark Attack Challenge, you and an opponent put your boats into a water-filled track and race to stay away from each other—and, of course, a shark. There's also a real, working crane to retrieve half-chewed boats. Ages 3 and up. The Shark Attack is about $25. Individual boats (there are six of them) are about $10 each or two for $15. Available at Toys R Us. More at http://zurumicroboats.com/
Finding Dory Robofish Collection (Disney Pixar)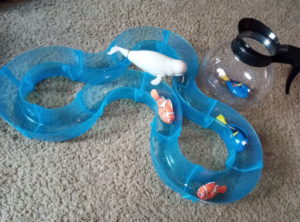 In the new Disney Pixar movie, "Finding Dory," that absentminded blue fish and her loveable friends (plus some new ones) are back. The Coffee Pot Playset lets your child carry Dory around, just like in the film. It comes only with Dory, but you can certainly drop in as many other characters as will fit, and create your own scenes. Other characters (including Marlin, Nemo, and Bailey the manatee are available, and all can survive in the bathtub or pool. Like the micro boats, they're water activated, but they have a power save mode that automatically shuts them off after one minute in the water. The Coffee Pot is about $20; individual figures are $12 each. Available at Walmart and other major retailers.
Angry Birds (Spin Master)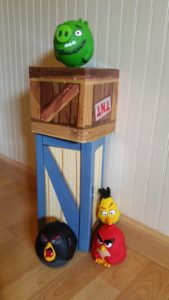 Can't get enough of Angry Birds? You're in for a real treat, because Spin Master just released a variety of playsets, collectable figures, zooming toys, and more. Launch your bird at the pigs to save your eggs in the Angry Birds Pig City Strike Playset, which comes with a launcher, bird, pigs, and stackable city (just like in the app!). Victory is yours as the city comes crashing down. Small collectable figures can add to sets, or be played with solo. The large vinyl figures are great for launching or using as a ball. They're soft and bounce off walls and other objects, so they're pretty safe to use indoors. Angry Birds Speedsters are fun as well. Just wind them up, put them on any flat surface, point them at something to crash into, and let 'em go. Ages 3 and up. Prices vary. Available at Amazon, Target, and other retailers. More at http://www.spinmaster.com/