No matter the time of year, little hands (and maybe not-so-little hands) get into everything. Whether you're in a restaurant, on a long car ride, or just walking through a supermarket, it's usually a good idea to put something into those active hands to keep them occupied before they get too active (or maybe just get on your nerves).
Click Clack Ball (Manhattan Toy)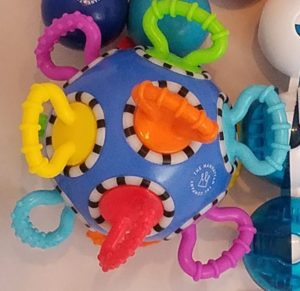 Got a really little one? This brightly colored, plastic ball with many handles to twist and turn is a great option. It's also easy to connect to a baby stroller or seat so your kiddo won't be able to toss it onto any dirty floors (as we all know they so love to do). As the name implies, the Click Clack makes sounds when baby turns the handles, and it rattles as it moves. It's filled with tiny beads, which make lots of stimulating noise (but not so much that it will drive mom and dad crazy).  An excellent choice for baby showers, too. Retail prices vary from $9.99 to $15.99 depending on where you buy, so get your Google on before you shop.

Classic Baby Beads (Manhattan Toy)
Another great manipulative from Manhattan Toy. There's a reason these baby beads have such staying power. Your baby (and toddler, and maybe even one or two of the adults around the house) will enjoy twisting and turning and rolling these wooden beads. The bright, colored beads are non-toxic, so no worries if your little one chews on them. But the fun goes far beyond chewing. These beads will keep those fingers busy and the gentle clicking when the beads touch will entertain the ears. These Classic Baby Beads retail for $9.99 to $16 in different stores, so check online first to get the best price.
Fidgitz (Thinkfun)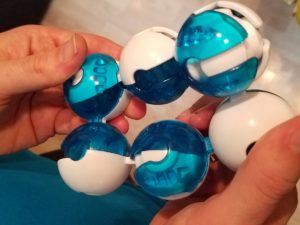 This great fidget toy is also a puzzle. It's a bit like a Rubik's Cube in that you have to manipulate it to solve it, and you'll get a nice jolt of satisfaction when you do. But it's very unlike a Rubik's Cube in that shifting, turning, and rotating the infinite loop of beads is calming and soothing, keeping hands busy and occupied, giving relief to nerves and impulses, and helping with sensory overload. Yes, there's a solution, but you can do it over and over and you won't be bored. And if you solve the puzzle and are still feeling a little fidgety, go ahead and fidget some more. We won't tell. $9.99 at https://www.thinkfun.com/products/fidgitz/
Switcherooz (Tastemakers)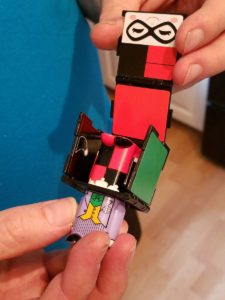 These fidget toys are unique because, besides being fun to play with, they seem to be tailor made for fans of comics, cartoons, and the like. They also morph into different characters, a twist we haven't seen before. They're about three inches tall and you can change from Batman, for example, to Robin by flipping the bottom chin on the face backward. Sounds a bit scary when you put it like that, but it's simple and easy. Kids can keep their hands occupied while using their imagination to create stories or act out their favorite comics or shows. Switcherooz are a bit harder to find, but well worth the trouble. $4.99 at http://www.tastemakersllc.com
Brain Tools Imagine and Think (Tangle)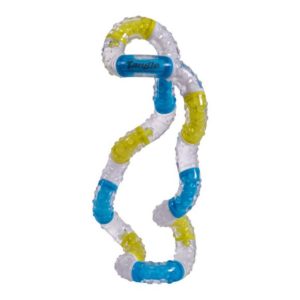 Educators and physical therapists are using Tangles not only to help people reduce stress and relax, but also to open up the imagination and to gain (or regain) dexterity. Tangle's new BrainTools Imagine has bright and vibrant new colors, and uses "magic in motion," which makes it glide as you twist and turn it. It's slightly larger than other Tangles and has transparent colors or solids. The "Think" is our favorite and is even larger than "Imagine." This very tactile fidget toy is ideal for children or adults with sensory issues or who need hand or finger rehab to increase strength and or and mobility. Imagine retails for $5.99. Think retails for $12.99. https://www.tanglecreations.com