We all know how great exercise is for us—it's been shown to have positive effects in almost every area of our life, whether that's reducing disease risks, combatting depression, or just improving overall wellbeing. But exercising together as a family has some additional benefits. Of course, there's the bonding part. But besides that, family exercise provides some built-in motivation, encouragement, and can add an element of (hopefully) friendly competition. If you and/or your family are relatively new to exercise, here are a few ways to help you take those first steps towards lifelong fitness. But please, before you start any kind of exercise routine—especially if you haven't worked out in a while—check with your healthcare provider to make sure it's appropriate for you and your unique circumstances.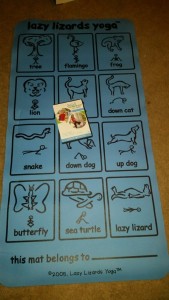 Lazy Lizards Yoga mat and DVD (Lazy Lizards)
If one or more of your kids is wiggly and impatient, yoga is a great way to redirect some of that surplus energy. A tremendous amount of research has been done on kids and yoga and there are many documented benefits, including increased strength and flexibility, better ability to manage stress, lower obesity risk, improved balance and agility, fewer sports injuries, and better on-field performance. Some studies even suggest that yoga may encourage creativity, improve memory, and boost academic performance. Yoga, of course, can be done alone, but it's also a wonderful family activity. The Lazy Lizards yoga mat is the perfect size for children, and has 12 kid-friendly poses printed right on it. There's even an empty space where kids can draw their own pose. These mats are eco-friendly (meaning they're made from phthalate-free materials and are recyclable) and come in four colors. Kids can do their own yoga practice by following the illustrations on the mat, or you can pick up the Lazy Lizards yoga DVD, which includes a more structured workout, which includes the little-known pizza pose. The mat is $32, the DVD is $17.95, or you can get a combo for $44.95, all at http://www.lazylizardsyoga.com/ and other retailers.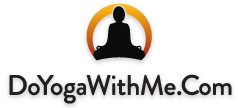 DoYogaWithMe
If you've got older kids, DoYogaWithMe is a great resource. The website has dozens of free yoga videos that range from 15 minutes to more than an hour. There are three levels (beginner, intermediate, advanced) and 17 styles to choose from. The instructors are uniformly excellent and the workouts are just as good as you'd find at your local yoga studio. http://www.doyogawithme.com/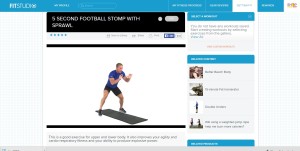 Sears FitStudio (Sears)
Sears's newly re-launched FitStudio is a free, one-stop site that offers a variety of workouts (complete with short video demos of each exercise), a large library of articles on fitness and nutrition, and reviews of dozens of fitness-related products. Once you register (it's quick and free) FitStudio helps keep you motivated by giving you rewards for incorporating movement into your daily life. If you have a fitness tracker or other similar device, you can connect it to your FitStudio account. You can earn points for walking two miles, burning 1,500 calories, or achieving some other fitness goal you've established. You can redeem those points for discounts on merchandise from Sears, sears.com, or kmart.com. Find out more at https://www.fitstudio.com/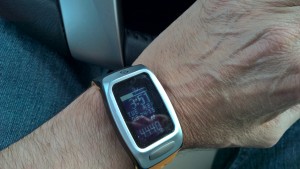 Sportline Sync Heart Rate Watch
We'll be reviewing advanced fitness trackers and fitness-enabled smart watches in future columns, but if you're looking for a good quality, inexpensive tracker with a lot of features, you can't go wrong with this one. Besides telling time (you'd be amazed at how many fitness trackers don't), the Sportline Sync Heart Rate Watch measures steps taken, distance traveled, calories burned, and heart rate. About $50 at Sears and other retailers.