If you're putting together an Easter basket for the kiddies, stuffed animals and toys are absolute must-haves. Here are some of our favorites for this time of year.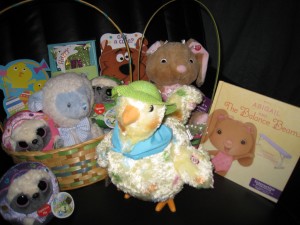 YooHoos
Aurora expands their stuffed-toy line this year to include an Easter Egg Assortment, which features the original YooHoos dressed as colorful, decorated eggs. Each YooHoo makes a fun sound or plays an Easter tune when squeezed. Ages 4+, Retail $9 http://www.auroragift.com
Easter Lambs
Also from Aurora are several varieties of stuffed lambs, perfect for this time of year. The Jesus Loves Me lambs come in pink or blue, have silky soft "wool" plush, and embroidered eyes, making them safe for even the youngest children. Each 9" lamb comes with a matching festive bow around its neck that matches the design in its ears. Retails for around $13. There are also the Blessings lambs, who are pure white with a white bow. These 8" lambs are super-soft and cuddly and have an embroidered smile and eyes. Ages 1+, retail $9. http://www.auroragift.com. Use code YooHoo13 for free shipping on orders over $50.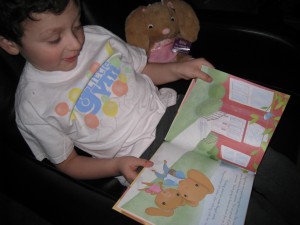 Abigail the Bunny Interactive Story Buddy
All of the Story Buddies are a great way for parents and kids to read together. If you're little one is a reluctant reader, Story Buddies make reading extra fun and engaging by waking up and responding when certain phrases from their books are read out loud. Abigail comes with one book and four more are available for purchase. Ages 4 and up. $35.95. http://www.hallmark.com/
Egg Squawkin' Hen
This year Hallmark introduces a new version of their popular Egg Squawkin' Hen, who sings a silly version of "Whoomp, There It Is." Press the button on her wing to make her dance (and make your kids laugh) and bob up and down while singing and laying an egg with every "SQUAWK!" (Of course, you'll need to load her up with eggs before playing). Available in all Hallmark stores for $30.95 or $15.95 with card purchase.
Cards and more
Speaking of cards… Hallmark has a huge variety of Easter-themed cards (including the new singing chick cards). And there's something for everyone, whether you're buying it for someone young or old, or you want to make the recipient laugh or reflect. With email, Facebook, Twitter, and more, handwritten cards are too often overlooked. But they're a great way to keep in touch with distant family and friends and to teach kids the incredible power that a personalized drawing or a few written words have to affect someone thousands of miles away.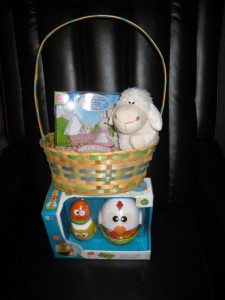 Calico Critters
These adorable animals from International Playthings will bring a smile to just about every kid's face. Fuzzy, velvety soft, and dressed to kill, Calico Critters come in families—and they're great for helping kids learn about socialization and togetherness. They also make imaginative play fun for the whole family, encouraging mom, dad, and the kids to put on plays for each other and go on adventures together. One cute Easter set for Easter is Connor and Kerri's Carriage Ride, which comes with mommy, two children bunnies, carriage, rattle, animal clothing, and more. Oddly, it doesn't come with a daddy bunny.  http://www.intplay.com
Chicken & Egg Stackers
Also from International Playthings, this 8-piece set of brightly colored eggs let even the littlest babies celebrate Easter by stacking and nesting. They're also good for learning about colors and matching. And they're fun for mom and dad too.