How is it that giving candy and chocolate to kids has become such a major part of so many holiday celebrations? Every one of those holidays has its own, special, traditional sugary treat. In the case of Easter, of course, it's eggs and bunnies. But these days we're hearing from more and more parents of very young children who are looking for two things: reduced-sugar treats for the kiddies, and toys that aren't too big for their little ones to pick up and play with. Here are some of our spring Easter-basket-stuffing faves that satisfy both of those requirements.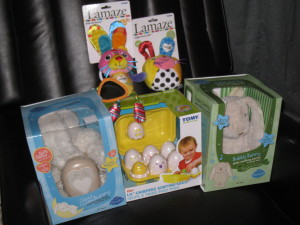 Bubbly Bunny and Glow Cuddles Bunny (Cloud b)
These two adorable bunnies are perfect for baby's first (and maybe even second) Easter morning. Bubbly Bunny plays four soothing sounds, including giggles, wind, waves, and a cute lullaby. The selection and volume are set by mom and dad. There's also a variable sleep timer (23 or 45 minutes). Comes with a Velcro strap to secure Bubbly to baby's crib.
Cuddles Bunny adds sight and touch to the infant bedtime experience. The slightest hug makes Cuddles glow and activates a vibrating heartbeat (easily be disabled by a parent), which are designed to help your baby learn to calm herself.  The light is dim enough to not interfere with sleep, and shuts itself off after 23 minutes. Both bunnies come with batteries and retail for $30 (Bubbly) and $33 (Cuddles) at http://cloudb.com.
Lil' Chirpers Sorting Eggs (TOMY)
These cute, festive, brightly colored eggs are perfect for a child who is becoming more mobile. Six eggs come in a handy carrying/storage case that includes two different matching games. "Break" open an egg to discover a chick of the same color. Press the chick's head to make him peep. Great for building manual dexterity and leaning colors, shapes, sorting, and patterns. $12 at http://tomy.com
Lamaze Bella Bunny and Giggle Bunny Ball (TOMY)
Bella Bunny lets your baby use almost every one of his senses: The colors are vivid and engaging (vision), there are a variety of fabrics and textures (touch), and the ears crinkle (hearing). Plus, Bella is made of completely non-toxic materials, so your baby can gum and gnaw away to his heart's content. Lamaze color codes all their products to make it easy to find the perfect toy for your child's age and developmental range.
Giggle Bunny Ball is another a great toy for babies and has been tested safe for birth on up. Like Bella, Giggle is colorful, crinkly, and multi-textured. But what sets her apart is that she giggles when shaken (and yes, there's an on/off switch). One of her ears is a loop, which makes it easy for baby to grab on to and even easier for ma and pa to attach it to a crib, stroller, or car seat. Bella Bunny retails for $16 and Giggle Bunny is $10, both at http://tomy.com
Jelly Bean Racer (Little Tikes)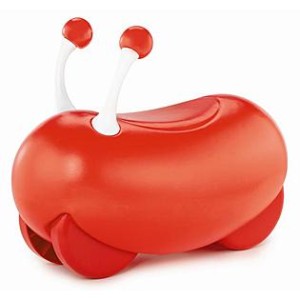 If you've got a budding Kyle Busch or Danica Patrick on your hands, he or she will love these racers which, as you might guess from the name, really do look like giant jelly beans on wheels. They come in four colors: pink, red, green, and orange, and sport two antennae-like "handles" to keep kids secure on top. By using their feel to pedal or push off the ground and to steer, kids can cruise around the house or any relatively smooth outdoors surface. Best for kids 12-24 months). Retails for $20 at http://www.littletikes.com