Now that Memorial Day has come and gone, pools-public and private—around the country are now open. Swimming is great family fun, but pools and other wet areas can be dangerous. So can the sun. Here are some great products to help keep your little ones as safe and healthy as possible this summer.
Sunblock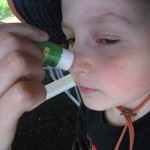 According to the Skin Cancer Foundation, just one bad childhood sunburn more than doubles the chances of developing skin cancer later in life. Babo Botanicals has a line of sport and swim products designed to protect and rehydrate your children's skin. The new Clear Zinc Sunscreen (in green bunny packaging your kids will love) comes as either sunblock cream or an easy-to-carry stick. Both contain zinc oxide, an all-natural mineral that protects and is less likely to irritate your child's skin than blocks that contain chemicals. After a long day in the sun, clean up with the Organic Cucumber and Aloe Vera shampoo, body wash, and conditioner(tear free), formulated to remove chlorine, salt, and other grime and to rehydrate skin and scalp. Certified organic, soy, dairy, chemical, and nut free, and made in the USA. http://www.babobotanicals.com
Clothing and Swimwear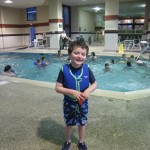 Rashguards and hats should be an important part of your sun-safety strategy. Polarn O. Pyret has a fantastic line that includes every sort of bathing suit, rashguard, and hat imaginable. The Swedish name is hard to pronounce, but the products are top notch. Mix and match however you like. Want a long sleeve swim top and shorts that knock out 98% of UV rays? Or maybe a rashgarud top and regular suit on the bottom? For boys, girls, and babies. http://www.polarnopyretusa.com/
Khol's has tons of clothing and swimwear options that are easy on the wallet. You can get a two-piece boys swim trunks and rashgaurd (50% UV rays protection) for just $24, or a girls rashguard top and matching bikini bottom for $25.20. They come in ready-made sets, which makes shopping easy if you already know what you want. http://www.kohls.com
Footwear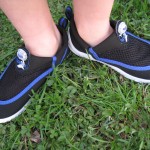 Because sand and pool decks can be really hot, it's important to protect your child's feet with rubber bottomed, quick drying water shoes. The best brand we've found this year is Speedo. Prices start at $16.95 and sizes run from toddler through adult. These water shoes are easy to get on and off—and once on, they stay that way. They also provide great, slip-free traction when using them on concrete near pools and at water parks.
Swim Vests
For non-swimmers, or anyone going out boating or rafting, swim vests are a must. Speedo has several options available, two of which are the classic swim vest and the Begin to Swim Polywog suit. The classic vest cuts down on the bulk, which helps when packing for a trip and makes practicing swimming strokes easy, while still keeping your child afloat. Zips up the front with a strap between the legs for easy on and off (meaning bathroom trips are no problem). The Polywog suit comes with boy's or girl's bottoms attached, and has large foam inserts in the chest to help keep swimmers upright. Both have 50% UV protection. http://www.speedousa.com
Puddle Jumpers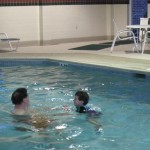 Stearns Kids Puddle Jumper Life Jackets are great for helping your 30-50-pound child learn to be confident in the water. They provide freedom of movement as well as stability and softness to prevent chafing. The adjustable buckles make for easy on and off. They come in a variety of colors and designs, including the new Spongebob, who's sure to turn a few heads at the pool. http://www.stearnsflotation.com