Getting kids to go to bed—and stay there—is no easy feat. Many parents dread the nightly routine, starting kids who whine, cry, make increasingly bizarre demands, throw tantrums, and do anything else they can think of to stay up. If you're looking to make bedtime a little sweeter for everyone, check out our new favorites. You can thank us in the morning.
Daniel Tiger's Neighborhood Snuggle and Glow Plush Toy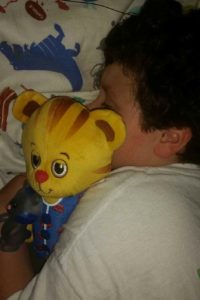 This little guy, who comes with his very own Tigey toy, is great for young fans of the hit TV show, and any child who's afraid of the dark. Daniel Tiger is dressed for bed in his trolley PJ's, and has been practicing saying helpful and comforting phrases as well as singing the "Goodnight" song from Mommy Tiger. When you push Daniel's hand, he'll talk, sing, or just glow, depending on which "mode" you have him in. Tigey lights up too, and slowly fades as the "Goodnight song" winds down. It's nice to have a familiar friend with you when you get scared, especially one who glows in the dark. Requires 3 (AAA) batteries (Included). Retails for around $25 at Amazon.
FlipaZoo (FlipaZoo)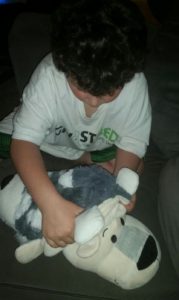 FlipaZoo is a clever, comforting toy that's great for both home and away. It's actually two plushes in one and kids will love transforming it from one animal to another. For example, the dragon becomes a unicorn, the husky becomes a polar bear, and the cat becomes a mouse. The transformation is super easy for kids to do (no complicated zippers or buttons)—they just flip the top over and boom, new animal. FlipaZoos are soft, cuddly, and make great pillows for car rides, airplanes, road trips, or just snuggling with while watching a movie with dad and mom. They come in three sizes. $20 for the medium/regular size. http://www.flipazoo.com
The Little Prince and Fox plush toy (YOTTOY)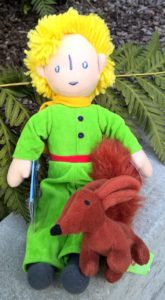 Based on the popular book (and soon to be movie), "The Little Prince," by Antoine de Saint-Exupery, YOTTOY has created a delightful line of soft, cuddly toys that feature the traveling Prince himself and the always philosophical fox. You can choose between a 12" Prince (with fox, of course), or a 4" Prince who comes bundled with a copy of the book. Seeing how quickly your child falls in love with the Prince may inspire you to read (or rediscover) the book. It may also inspire your child to use his new plush friends to act out all mischief the book's characters get into. The 12" Prince + fox is $29; the smaller set plus the book are $53 at http://www.yottoy.com/
Teddy Bears (Aurora)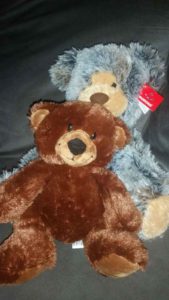 If you're in a more traditional mood, you can't go wrong with Aurora's line of Teddy Bears. They vary from "baby's first" to the fuzziest furs and most interesting colors that kids will enjoy. Some of the latest are Smiley Buxley (with, of course, a fantastic teddy smile), and the fantastically detailed Horace and Smokey. The faces on these bears are just too sweet (you won't want to put them down, so you might need to get an extra one for yourself), and your children will be delighted. Secretly slip one of these huggable cuties onto your child's bed, and you'll be amazed at how quickly those bedtime protests get derailed by the allure of a new fluffy friend who's inviting him to come snuggle into sleep. Go ahead, enjoy your evening-you deserve it! Prices vary. You'll find these bears and lots more at http://www.auroragift.com/aurorababy/