There's a reason blocks have been a part of just about every child's toy box for hundreds of years: Building things with blocks (and in my house, knocking them down) is just plain fun. But fun is just the beginning. Blocks teach children about colors, shapes, proportions, patterns, spatial relationships, physics, experimentation, and design. They also build hand-eye coordination and stimulate creative thinking—and they have the remarkable ability to adapt to your child's physical and intellectual age—the older the child, the more complex her block play will be. Best of all, playing with blocks is a great opportunity for parents and kids to hang out together, learn from each other, and strengthen their relationship. Here are some of our favorites.
Nanoblocks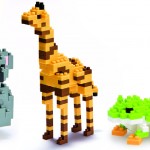 Parents and kids can spend time together building a variety of animals and architectural sites from around the world. Since many of the nanoblock sets represent well-know buildings, dads who enjoy architecture will enjoy the process and teaching kids about the original buildings. The one caveat is that these blocks truly are "nano" in size compared to the common Lego-style blocks. Nanoblocks require good eyesight and nimble fingers to control, but they're great for building attention span, focus, and fine motor skills. We also like the "nano-sized" price point that makes these easily a tenth the cost of the architecture collection of the major competitor. Ages 6+,www.mynannoblock.com
Building Blocks Technics
We love Haba's wooden toys, and this set of blocks and wheels is no exception. What makes this kit extra special, though, is that it introduces young builders to the concept of adding motion to their block creations. More and more research points to the value of using basic toys to stimulate a child's imagination. And for dad and mom, playing imagination games is a great way to connect with the kids on their level. Ages 3+, www.habausa.com
Makedo Freeplay Kit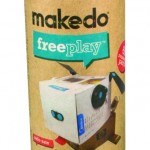 What a cool concept. The Makedo (pronounced Make Doo—as in, "we'll have to make do with what we have around the house"), is a container filled with reusable connectors that can help dads and kids turn even the most useless pile of recycling into a great project. Got a few scraps of fabric, an old oatmeal can, an empty tissue box, and a few toilet paper tubes? You can build a robot. Or a plane. Or anything else you can think of. As overused as the expression is, this truly is one of those cases where the only limit is your (and your children's—assuming you'll let them play too) imagination. Ages 4+,www.makedo.com.au
Lite Brix Building System: Extreme City Lights.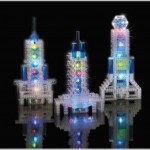 When you take the Lite Brix out of the box, they look kind of boring. Almost all the bricks (which, in shape, look a lot like Lego) are the same color—kind of a translucent white. But once you and your child have built the first skyscraper and turn on the battery-powered LEDs, wow! And when you finally get all three up and running, wowie wow! The buildings seem almost alive. Detailed directions make it pretty easy for parents and kids to assemble cooperatively—better yet, let your child read the instructions and show how well you can follow orders. The three buildings that are part of this kit can be rebuilt into a single structure, and can be combined with other Lite Brix kits. But don't feel limited by the instructions. Lite Brix also combine with Lego, so you can build even bigger and even more amazing structures. Ages 6+, http://www.cra-z-art.com/