Like it or not, we live in a world that is more and more dependent on technology. And if we expect our children to thrive in an increasingly complex and competitive world, they need to be technologically competent. Some toys and games include tech features simply because they can. Others, such as the ones we're reviewing this week, integrate technology in a way that actually encourages learning.
DigiArt Creative Easel (VTech)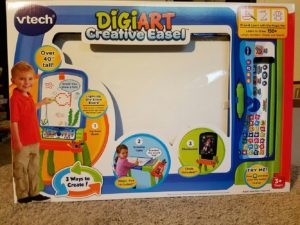 Transformers are everywhere… This highly interactive art center transforms from a desk to an easel to a chalkboard and back again in a way that really encourages kids' creativity. For those who need a little help, the light-up dry-erase board and magic pen make it easy for kids to trace more than 150 numbers, letters, basic shapes, and simple objects. And at 40" high, it may be taller than your child. The easel is also wired for sound and comes with 100 vocabulary words and more than a dozen songs and tunes. Chalk included, but batteries aren't. It's for ages 3+. Retails for under $54. https://www.vtechkids.com/
Touch & Learn Activity Desk (VTech)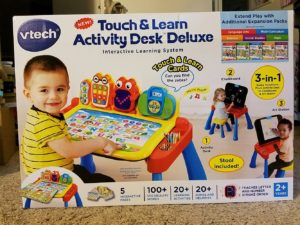 Another transformer, this one flipping between an activity desk, chalkboard, and art station (with dry-erase board). It comes with engaging "activity cards" that introduce numbers, letters, colors, songs, and themed vocabulary words (such as fruits and body parts). Additional curriculum packs are sold separately. The desk has plenty of space for storing supplies and comes with a pretend phone, a music player, and a stool (but no batteries). For you, there's an auto shutoff feature and a special button that allows you to check on your child's progress. It's for ages 2+ and retails for under $45.
Care for Me Learning Carrier (VTech)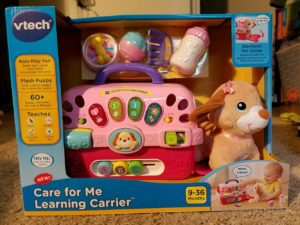 Your little one will learn about colors, shapes, and even how to care for a pet. It comes with an adorable plush puppy (whew—no litter box to change), supplies (bowl, ball, comb, and bottle), and an interactive carrier that makes it easy for your toddler to take his or her pet everywhere. There are also human-only features, such as sliding beads that introduce letters and play music, and plenty of buttons that help your two-legged pet learn opposites, colors, shapes, and more. Batteries required but not included. For ages 9-36 months. Under $25.
Pull & Learn Alligator (VTech)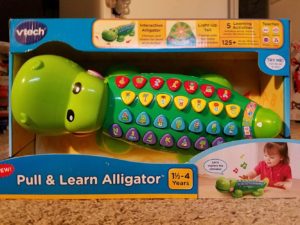 Your child will want to drag this adorable, wisecracking alligator everywhere. Each of the 26 letter buttons on the gator's back introduces a letter, the sounds it makes, words that start with it, and more. Flip a switch and you'll get some positively silly sentences that are sure to lead to laughs. Flip another and you'll get fun facts about all sorts of things. The gator himself chomps and shakes his head when you pull him, and his tail flashes when he "talks." Comes with 125 songs, melodies, phrases, learning-reinforcing quiz questions, and more. And for you, there's a volume control and auto shutoff. Batteries not included. For ages 18 months to 4 years. Under $17.
Zoo Jamz Piano (Vtech)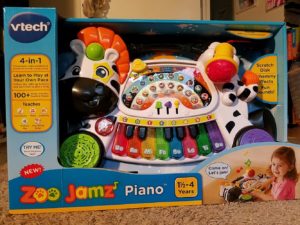 Although this instrument looks like a keyboard, it's actually more of a synthesizer, allowing your child to produce the sounds of a piano, violin, saxophone, or violin. The keys on the keyboard light up so your child can learn familiar songs (it's pre-loaded with more than 20), and the sound-amplifying microphone lets your little one sing along. There's a whammy bar and scratch disc (for those funky rap-ish sounds). Batteries not included. For ages 18 months to 4 years. Under $25.